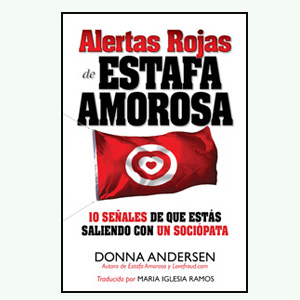 Editor's note: If you have Spanish-speaking friends, family or acquaintances, and you want to help protect them from sociopaths, here is the answer. "Red Flags of Love Fraud 10 signs you're dating a sociopath," is now available in Spanish! Forward this article to them.
Alertas rojas de estafa amorosa
10 señales de que estás saliendo con un sociópata
De Donna Andersen, autora de Lovefraud.com
Tienes una relacin amorosa que comenzó como un torbellino de atención y afecto, pero ahora te atormenta el temor de que algo no va bien.
O has tenido una relación que era verbal, emocional, financiera o incluso físicamente abusiva. Esa persona ya se ha ido, pero sigues sin comprender cómo te engañó, y tienes miedo de que vuelva a suceder.
O alguien a quien quieres tiene una relación sentimental con una pareja que te tiene preocupado. No puedes entender cómo se involucró tu amigo o familiar, y por qué él o ella no lo deja.
En todas estas situaciones, la persona que causa los problemas puede ser un sociópata. No, los sociópatas no son todos asesinos en serie trastornados, pero son depredadores sociales que viven su vida explotando a los demás.
Alertas Rojas de Estafa Amorosa explica exactamente lo que es un sociópata. En él se esbozan la 10 principales señales de alerta de la conducta sociopática, y lo que debes hacer si las ves. Aprenderás:
• ¿Por qué los sociópatas parecen ser tu alma gemela
• El riesgo real de las citas por Internet
• ¿Cómo seducen los sociópatas?
• ¿Por qué el "solo sexo" es una fantasía?
• ¿Por qué puedes hacerte adicto a un sociópata
• Cómo poner fin a la relación con seguridad
• Cómo protegerse de los depredadores humanos
Donna Andersen es la autora de Alertas Rojas de Estafa Amorosa, un libro basado en su experiencia personal y en la experiencia de miles de personas que relatan sus relaciones con sociópatas en dos encuestas por Internet. Andersen también se ha inspirado en el trabajo de los mejores expertos en la materia para analizar cómo seducen los sociópatas a sus víctimas y por qué las personas caen en el engaño y la manipulación. Este libro es la explicación más completa de los sociópatas en las relaciones personales que se ha dado jamás.
Alertas Rojas de Estafa Amorosa te dice, en un lenguaje claro y sencillo, cómo detectar y evitar a los sociópatas. Si ya has quedado atrapada en la red de uno estos depredadores sociales, el libro te mostrará que no eres la única persona.