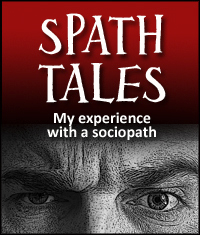 Editor's Note: This SPATH Tale was submitted by the Lovefraud reader whom we'll call "Victor."
I met my wife seven years ago. She was still married but told me her husband was abusive and she was working on a separation with him.
He left the home and she bought him out (very little equity in the home). About six months after he left I moved in with her.
We became engaged after three years and had a very passionate relationship. I was so proud and happy and we were so close. We married in 2011.
Everything was great and we really got along well. I did notice that she would never say sorry for anything she did and it was always me that paid for things.
We sold the house after I spent thousands modernizing it, and we built a lovely new home which we both own and moved into in March 2013.
I poured every penny I had into the home. We bought lovely furniture.
I started noticing a massive change in her in September last year.
Two months after she got a promotion, she disowned her sister and father and began to become very vain (perhaps she always was and I was blind).
I noticed that she became less interested in me. She would be away on business and not call me, suddenly took two trips without notice and I could not reach her.
I always spent lots on her and at Christmas I definitely knew something was up as she bought me a pair of jeans only.
I would run around after her, getting her breakfast, taking her lunch to work, doing all the housework and she would be late always and had a new taste in friends whom I did not really like (all from her work).
In January she stopped talking to her best friend and disowned her. I am friends with her friend's husband and they are both very confused and upset.
I went on a business trip for two weeks at the end of January, this is when my life was about to implode. She would not answer any of my texts or calls, after a week I finally got hold of her and she said she could not talk and hung up on me. I sent her an email begging to know what was wrong, she replied and said she was finding herself and did not know what she wanted any longer and she needed space.
I returned home and she started talking about me finding an apartment and separation. I was dumbfounded.
She told me I had to stay away from the house. I stayed away one night and the decided I would return home as it was my house also. She told me she was leaving and I said ok but please can we talk about things, she said she was not committing to anything.
I sat on the couch thinking ok she needs to cool off then she called the police from the garage. Police came and I explained what was going on and they said ok (no arrest). She had told them I would not let her leave. I swear I have never threatened her or touched her.
They left and told me just wait and she will be back and they were sure we would work it out.
That night I had discovered she had been texting a burner phone, had purchased a second phone, had been to a hotel whilst I was away, and purchased lingerie etc.
She had removed her marital status on FB, changed her email recovery password (was mine and was sent to my email box).
A mutual friend also told me that she was seeing someone else.
The next evening I got home and she was not there. Suddenly a thump on the door and there was a police officer with a temporary restraining order, I was out of my house within 10 minutes. She had made false statements to get me out of the house.
One week later I was in court with a lawyer, she was there seeking a six- to 12-month order. It was dismissed.
I have filed for divorce.
There is a consent order saying I have to stay away from the house and not contact her. We are negotiating settlement trough lawyers.
She won't let me have ANY joint assets (furniture we bought, etc.), she is keeping everything. We will lose much money on the house (she wants to keep it). She has been ordered to sell it but still has not listed it and is in contempt.
She has emailed my executives at my company telling them I am abusive.
She has filed taxes separately without telling me (on the 15th).
I have been signed up for dating sites, had numerous calls from "withheld numbers" with heavy breathing etc to the point I had to change my number.
She tried to alienate my friends with lies, cancelled my car insurance and the list goes on. We tried mediation and it was hopeless. I am at the point now where I will lose everything because I am spending more than it is worth.
I am homeless — living with a friend waiting to get past this mess at the grand old age of 43.
I have lost everything. She changed so much in such a short period of time, she is gaslighting me, taking everything I own and trying every means to destroy me.
She changed to be very materialistic. She was into this "Self Love" period, per her.
I am trying to figure out what is wrong with her. My therapist says she is either a psychopath or a narcissist.
I am devastated. I do take responsibility for being complacent in our marriage but, wow, I did not even get a chance to work on it.
I still pray sometimes that she will call me and say she made a massive mistake. I feel like a deer that has been shot between the eyes.