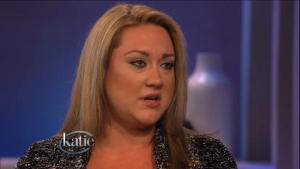 George Zimmerman shot and killed Trayvon Martin, 17, in Sanford, Florida, the night of February 26, 2012. Despite the media circus that followed, and Zimmerman's high-profile trial last summer that ended with his acquittal, I have never written about this case.
Although it was a big story, I wasn't sure it was a Lovefraud story. Most of the media attention focused on the racial aspects of the case. Most of the debate was on whether or not justice was served. Neither of these issues necessarily correlates with sociopathy.
There were a few hints that Zimmerman had sociopathic traits. In fact, a writer by the name of Shawn James did a good job of outlining them in his blog article, Why I believe George Zimmerman is a sociopath.
But now we're hearing from Shellie Zimmerman, George Zimmerman's estranged wife. And she's describing behavior that all of us at Lovefraud will recognize.
Last week Shellie was interviewed by Katie Couric. Watch the interview here. It's divided into two clips be sure to watch them both.
Signs of sociopathy
In Shellie's descriptions of George Zimmerman's behavior, I see the following signs of sociopathy:
• The night before the murder, Shellie wasn't feeling well. George didn't want to deal with it and publicly humiliated her. Sociopaths frequently show their true colors when their partners are sick. They have no interest in caring for others.
• Zimmerman's behavior after the trial, including several run-ins with the law, casts a lot of doubt in Shellie's mind about her husband. "I don't know the person I have been married to," she said. That's because the person she married didn't exist.
• "George does seem like a ticking time bomb," Shellie said. "I'm certainly afraid." This is an apt description of a sociopath.
• "When you're married to a person who is manipulative and emotionally abusive, you start to lose yourself and your identity in that relationship," Shellie said. "Leaving him was the best thing that I've ever done." She is perfectly describing the experience of many Lovefraud readers involved with sociopaths.
• What does Shellie want to do in her future? "I would love to give a voice to a very silent population of women who suffer from emotional abuse or verbal abuse," she says. Emotional and verbal abuse are hallmarks of sociopathic manipulation.
• Shellie says she doesn't know who George Zimmerman is. "I found out that he was lying about a lot of things." Lying, of course, is the cardinal sign of sociopathy.
• Shellie says Zimmerman "became like a pacing lion, very unpredictable." At times she was frightened. Many Lovefraud readers have seen their partners acting like a pacing animal, with rage boiling just below the surface.
• Several women filed domestic violence charges against George Zimmerman, including Shellie. She said that each time he turned the charges around and blamed the woman. This is classic sociopathic behavior.
"Unraveled"
Towards the end of the interview, Katie Couric asked if George Zimmerman unraveled. Shellie agreed. "It seems like something snapped in his spirit," she said. "And made him behave "¦ like a monster."
This, of course, is not what happened.
When Shellie Zimmerman first met her husband they married in 2007— he was wearing a mask. I don't know when the mask started to slip, but further into the relationship, Shellie was experiencing emotional and verbal abuse.
Then Zimmerman was accused in the shooting of Trayvon Martin. He needed to put the mask back on for the duration of the trial. He also needed the image of a supportive wife. Shellie didn't talk about how Zimmerman treated her during this time. She described herself as a cog in the machine of Zimmerman's defense.
Zimmerman was acquitted. Now, with the possibility of going to prison for this crime removed, he's discarded the mask. With this violent, out-of-control behavior, we're seeing the real George Zimmerman.
By the way, Shellie says Zimmerman left a used shooting target, riddled with bullet holes, nailed to the wall of the home they once shared. Here's the story:
George Zimmerman's estranged wife told cops he left bullet-riddled marksman tartet nailed to the wall in their home after divorce dispute, on RadarOnline.com.