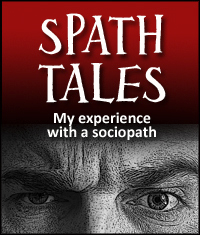 Editor's note: A Lovefraud reader, whom we'll call "Abigail20," describes how she met a man, had a child with him, and now the sociopath ignores his child.
I met the sociopath at a birthday party in 2004, after exchanging numbers and a few dates I realised I only liked him as a friend, he tried to get tactile very early on but I rejected his advances, truth is my feelings lay elsewhere and regrettably I let the sociopath know this yet still he persisted, he still wanted to be around me, he knew exactly what he was doing and what his motives were.
During the initial stages we were hanging out together as friends, so I thought, I learned that he was living as a tenant with a former partner as his landlord, well this turned out to be a complete and utter lie, I have now known the sociopath for 15 years and in that time she had a child for him and in 2012 I had a child for him, you see, from the time I met him he was always in a relationship with this woman, I have now learnt that he has married her with separate living arrangements so that he can manipulate and lure other vulnerable women into his web of lies and deceit.
I admit that I have been manipulated to the max. This person has been let back into my life on several occasions after leaving huge gaps for years without having anything to do with his child, I recently let him meet his child because he manipulated me into thinking that he was interested in her, I fell for it, it didn't last very long, he started with the excuses blaming me for his absence and bad behaviour.
Read more: Is your partner a sociopath?
I am now left with my 7 year old daughter asking, "when is Daddy coming back?" I cannot tell her the truth, this person only gets in touch when his wife is not giving him anything physical, apparently she has a menopause situation, yes he had the audacity to disrespect me to that degree by telling me that, my daughter is his dirty little secret, none of his family or his wife knows if her existence, he does not give any money for maintenance or contribute to upbringing in any way, I have done this all by myself.
This lowlife only ever contacts me when it suits him, everything has to be on his terms, he is very controlling and controls everything his wife does as well. He told me in no uncertain terms that if she found out about myself and my daughter, that he would have a lot to lose.
He played a massive head game with me at Christmas. He came round, bought my daughter one measly £20 present and a unpersonalized card, what an insult, considering he's never given her anything, he even gave me a cheap bottle of perfumed water, I would call it and had the audacity to emphasize not once but twice that it was a token, just in case I thought it was coming from a romantic place, he even initiated taking photos with himself and my daughter and myself and him, he must of known that he had no intentions of coming back round.
Learn more: Sociopathic seduction — how you got hooked and why you stayed
New Years Day after celebrating it with the love of his life, he had the audacity to send me a general text wishing myself and daughter a Happy New Year, how insulting. We have communicated through text and phone calls since but not once has he mentioned continuing to see his daughter, this is so destroying for this little girl, he has no conscience, he does not care about her or her wellbeing. This is the coldhearted work of a sociopath. The sociopath ignores his child.