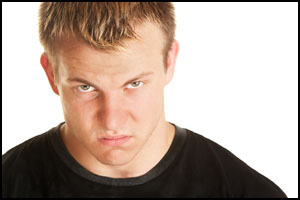 UPDATED FOR 2020: Lovefraud recently received the following email from a reader whom we'll call "Jason." It's an opportunity to explain the range of sociopathic behavior.
My best friend of 20 years I believe is a sociopath. It's very sad because you want to give a person the benefit of the doubt, but after awhile it becomes apparent. He displays all the characteristics of the sociopath. I'm smart, but I can't convince myself with 100% certainty that he's a sociopath (maybe most people can't.) It's hard to reconcile with it. Is there any advice you can give me?
Yes, Jason. First I'll give the somewhat easy explanation; then I'll give the more technical explanation.
Cluster of traits and behaviors
The first thing to understand is that sociopaths are not all the same; there is a wide range of sociopathic behavior. This disorder encompasses a cluster of traits and behaviors. Any particular individual can have any of the traits and behaviors to greater or lesser degrees. Therefore, some sociopaths are definitely worse than others. They can range from sleazy to serial killer.
In fact, it's often the low- to mid-level sociopaths who are most difficult to identify. Maybe they aren't as grandiose as others. Maybe they sometimes seem to have empathy. Maybe they aren't always aggressive. So they seem to have many of the negative traits, but not all of them — and you wonder if they really are sociopaths.
Range of sociopathic behavior: Professionals do not agree
Making matters even more complicated, mental health professionals do not agree on what to call these disordered individuals, and how they should be diagnosed. In fact, the word "sociopath" is no longer used as a clinical diagnosis.
Lovefraud, however, has proposed using the word "sociopath" as a general umbrella term to describe people who live their lives by exploiting others. This would include people who are clinically diagnosed as having antisocial, narcissistic, borderline or histrionic personality disorders, or psychopathy.
Read more: Naming the social predators among us.
Psychopathy Checklist Revised
The best way to evaluate someone's degree of disorder is the Psychopathy Checklist Revised (PCL-R), developed by Dr. Robert Hare. This is a formal evaluation that should only be done by a trained clinician.
The evaluation is based on a set of 20 traits and behaviors. They are:
Antisocial behavior
• Need for stimulation and proneness to boredom
• Parasitic lifestyle
• Poor behavioral control
• Sexual promiscuity
• Lack of realistic long-term goals
• Impulsivity
• Irresponsibility
• Early behavior problems
• Juvenile delinquency
• Parole or probation violations
Emotional/interpersonal traits
• Glibness and superficial charm
• Grandiose sense of self-worth
• Pathological lying
• Conning and manipulativeness
• Lack of remorse or guilt
• Shallow affect
• Callousness and lack of empathy
• Failure to accept responsibility for own actions
Other factors
• Committing a wide variety of crimes
• Having many short-term marital relationships
The clinician determines the degree to which an individual exhibits each trait, giving a score of 0, 1, or 2.
• 0 — the trait is not present
• 1 — the trait is somewhat present
• 2 — the trait is a reasonably good match
The maximum score on the PCL-R is 40, meaning the person scored 2 on every item. Someone who scores 40 is really, really disordered. The average person, who is not disordered, scores around 4.
"A psychopath"
Dr. Hare actually says no one should be called "a psychopath." Hare prefers to say, "this person scored (the number) on the PCL-R."
Learn: What did they want? Psychopaths, antisocials and other exploiters in romantic relationships
Why? Because although most experts say that anyone who scores 30 or above is "a psychopath," this dividing line is somewhat arbitrary.
What about someone who scores 18? Or 25? This person is far nastier than an average person who scores 4, but is not considered to be "a psychopath."
Another researcher, Dr. Reid Meloy, addressed this issue by clarifying degrees of disturbance. Here's how he rates different PCL-R scores:
• 10-19 — mild psychopathic disturbance
• 20-29 — moderate psychopathic disturbance
• 30-39 — severe psychopathic disturbance
For more information, read:
Researchers minimize the psychopathy problem
Experienced clinician says psychopathy is a spectrum
Range of sociopathic behavior: Are you feeling exploited?
As you can see, there is a range of sociopathic behavior, so it is difficult to say precisely if someone is "a psychopath" or "a sociopath." But about the only time that it's important to diagnose someone with precision is during a court trial.
If you are making a decision about whether or not to have any involvement with someone, you don't need to know his or her score on the PCL-R. All you need to know is if you feel exploited. If you do, then you should put the person out of your life.
Lovefraud originally published this article on Sept. 15, 2014.