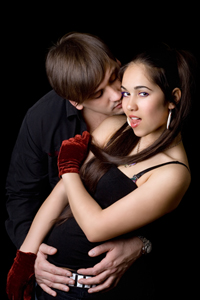 Most Lovefraud readers are here because you were, or are, romantically involved with a sociopath. Usually romance leads to sex, although you may have noticed that sex with a sociopath isn't particularly romantic.
The sex may be exciting, erotic and adventurous. But if you're looking for a true connection, the "sacred conjunction," you're not going to find it with a sociopath, and here's why:
Power, control and sex
According to Dr. Liane Leedom, sociopaths want three things in life: Power, control and sex. Often, sex is simply an extension of their desire for power and control.
The most egregious cases of sex-as-power, of course, are sexual assault and rape. But there are other examples that aren't as violent or obvious.
My ex-husband, James Montgomery, liked to have sex after we argued. I later figured out that Montgomery, with his superior debating skills, usually won the arguments, and I lost. This meant that he dominated the discussion, and therefore, me, which was sexually exciting to him.
So it wasn't make-up sex. He was adding physical domination to the verbal and psychological domination of winning the argument.
Excess testosterone
All sociopaths, both male and female, have very high levels of testosterone. This is the hormone that makes people compete for partners and then mate with them. So with high testosterone, sociopaths do a lot of competing and mating.
Being in a relationship doesn't stop this. Almost all sociopaths cheat.
High testosterone is also associated with aggression and criminality. When high testosterone and a high level of sociopathy combine with deviant desires, the end result can be a very dangerous individual a violent sexual predator.
Need for excitement
Sociopaths crave stimulation and excitement. Sex is about the most stimulating activity that a human being can experience, so they want it. A lot.
And what, exactly, do they want? Variety.
This means sociopaths like sex in a lot of different ways, a lot of different places, and with a lot of different people.
While you are their object of desire, your encounters may seem highly erotic. But sooner or later, the sociopath gets bored. Then, in search of more stimulation, the sociopath may push you to participate in activities that you find uncomfortable.
If you decline, the sociopath will most likely look for new partners especially partners who are willing to go along with his or her desires.
But even if you go along with the sociopath's new demands, he or she will likely still look for new partners. Sociopaths see no need to remain faithful to one person.
Eventually, when all of their past activities become boring, the sociopath may pursue the taboo.
Sex as manipulation
Sociopaths know that if they can hook you sexually, you are easier to manipulate.
Here at Lovefraud, we've written frequently about oxytocin, nature's "love glue." Oxytocin is a neurotransmitter that makes you feel calm, trusting and content, and alleviates fear and anxiety. Oxytocin is released into your bloodstream and brain when you experience intimacy especially sex.
So when you have sex with someone, because of the oxytocin, you bond with your partner. You become more trusting with that person, and therefore more malleable.
Oxytocin does not affect sociopaths like the rest of us. They don't bond it's speculated that they don't have the necessary oxytocin receptors.
So what happens when you have sex with a sociopath? You bond, and the sociopath doesn't. You become more likely to comply with what the sociopath wants, whereas the sociopath just keeps pursuing his or her agenda.
Read more here:
Oxytocin, trust and why we fall for psychopaths
Straight, gay or sex with anyone
Several times, I've appeared on the "Straight Wives — Gay Men" radio show, hosted by Bonnie Kaye (most recently on February 9, 2014 listen on the Lovefraud media appearances page).
Bonnie has heard from thousands of women who were shocked to discover that their husbands have been sexually involved with men. The women typically come to the conclusion that their husbands are secretly gay, and afraid to live their truth.
This is certainly true in some cases. But in many, many cases, the men were simply sociopaths looking for variety in their sexual pursuits.
I've also spoken with gay men and women who realized their partners were sociopaths. Many of them observed that these partners weren't authentically gay.
The bottom line is that many sociopaths are neither straight nor gay they will have sex with anyone.
For them, sex isn't about attraction. Sex is just another manipulation technique to further their agenda.
Sociopaths and love
The core of sociopathy is an inability to love. Sociopaths cannot experience the human connection of love, the desire to take care of the person that they love.
So what do sociopaths mean when they say, "I love you?"
Some know they are being manipulative, and are just mouthing the words to get what they want. But others equate sex with love. They think sex is love. They are essentially saying, "I want to have sex with you."
Not out of control
Given a typical sociopath's tremendous appetite for sex, and the desire for variety, you might come to the conclusion that sociopaths are out-of-control sex fiends.
Not necessarily.
Sociopaths can subjugate their sexual desires in the service of a larger agenda. For example, sociopaths are quite capable of withholding sex from their partners in order to keep them off balance.
And some Lovefraud readers have reported that their sociopathic partners aren't interested in sex. (I do have to wonder, though, if the sociopath is getting sex somewhere else.)
As I said at the beginning of this article, sociopaths want power, control and sex. But they're most interested in power and control.