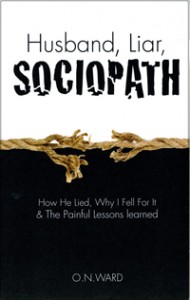 By O.N. Ward
Every week, a chapter of my book, "Husband, Liar, Sociopath: How He Lied, Why I Fell For It & The Painful Lessons Learned" (available via Amazon.com, just click on the title or book cover) will be published here on Lovefraud. To read prior chapters, please see the links at the bottom of the post.
Chapter 8: I Will Follow Him
Deeply in love, or so I thought, Paul and I agreed to coordinate our job search so we could stay together after business school. In early January, Paul received his first job offer—to work for a niche consulting firm in Minneapolis. I wanted to stay on the East coast, closer to family in Vermont. I hoped to work in public relations after getting my MBA, but almost no public relations companies interviewed at Yale during my graduating year, and I needed to generate my own leads. I did, and I got four offers in my desired field, all in Massachusetts and Connecticut. However, Paul wanted to stop his job search, accept his first offer, and cancel his many upcoming interviews with firms in Connecticut and Massachusetts.
I was confused. Hadn't we developed a joint job-search strategy to generate job offers in a few agreed-upon cities, including Minneapolis, and then make a "what's best for us" decision once all relevant offers had been extended? As a sociopath, Paul needed to appear as if he wanted to cooperate with me, all the while doing only what was best for him. If he had made it clear early in the job-search process, which started at the beginning of our second year in business school, that staying with me was not his priority, it is likely I would have ended our relationship. He would have lost access to all the advantages I provided as his girlfriend—an apartment, access to a car, a study-mate who would help him get good grades with less effort, better food than the cafeteria, and physical intimacy. Why blow that?
"It's a perfect match," Paul explained. "No matter how much I interview, I'll never find any firm or job I like better. I won't make much money, but money doesn't matter. I know I'm going to love it there."
Once Paul played the "it's the perfect job for me" card, I did not want to stand in the way of the man I loved and his ideal first position out of business school with a boutique consulting company. Wanting to be a loving, supportive, understanding girlfriend, I played right into his hand and encouraged Paul to take the job. I would keep looking. I broadened my search to any type of job that I could do well, not just the type of job I really wanted. After a few months, I received a lucrative offer from an investment management company in Minneapolis. Shame on me, but I took the job so that Paul and I could stay together, not because it was a position or long-term career I really wanted. I left those dreams behind back East.
Clearly, I am not the first woman to trade off career in favor of a relationship. Maybe I would not have done it if I were younger with decades of time ahead of me to find Mr. Right and start a family, but I was thirty-six years old when I finished business school. I wanted children, and my biological clock was ticking—loudly. Besides, I was in love with Paul, and I thought he was in love with me. Once in Minneapolis, I hoped I would be able to craft the public relations career I wanted.
In truth, Paul probably didn't care if I got a job in Minneapolis or not. If I, like Jenny, was naïve enough to sacrifice my ambitions to tag along where he was going anyway, that was fine with him. After all, in Minneapolis, we were able to get a bigger and nicer apartment than either of us could have afforded on our own. This was especially true for Paul, because he had a bigger tuition debt and a smaller salary than me. My relocation package was more generous than Paul's, too, and my company was happy to give Paul's belongings a free ride to our new apartment in Minneapolis. The lack of balance in our job search process did not set off alarm bells for me. After all, long-term relationships are full of give and take, tradeoffs, and compromise. I assured myself that the scales would balance over the long term.
What a sociopath says he will do for the benefit of someone else and what he actually does can diverge wildly, especially over time. You can explain away any single incident, but beware of a disturbing long-running pattern. Each decision I made, each trade-off I offered, made sense to me at the time and was couched in logic and long-term purpose. Yet, years later as our marriage dissolved, I asked Paul what meaningful tradeoff in our almost twenty-year relationship he had ever made for me. He could not recall even one.
Neither could I.
Start from the beginning:
Go to previous chapter:
Go to next chapter:
Notes
Identifying names, places, events, characteristics, etc. that I discuss here and in my book have been altered to protect the identity of everyone involved.