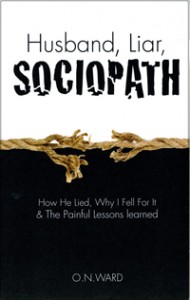 Every week, a chapter of my book, "Husband, Liar, Sociopath: How He Lied, Why I Fell For It & The Painful Lessons Learned" (available via Amazon.com, just click on the title or book cover) will be published here on Lovefraud. To read prior chapters, please see the links at the bottom of the post.
Chapter 29: It Depends Upon What The Meaning Of The Word "Is" Is
Paul manipulated the well-intentioned therapist into becoming complicit in Paul's self-serving altered version of reality—to view Paul as the perfect, calm, devoted, caring father and husband, while I was clearly on edge emotionally due to my declining mental health and jealousy over Paul and Anne-Marie's business partnership. Paul positioned me as emotionally fragile and overly sensitive, that I cried often and for no reason, and that he was a saint for standing by me through these dark personal times. Paul said he only came to marriage therapy because I wanted him to come. Paul thought what was really needed was individual therapy for me, because something was clearly wrong with me—perhaps I was depressed or worse. To him, I seemed unhappy, because I had given up my career. As evidence of this, Paul brought up my alleged jealously of his hard working, devoted, very successful colleague, Anne-Marie.
Fighting back tears, because that would only confirm Paul's portrayal of me, I was taken aback by Paul's recounting of past events. I tried not to appear too incredulous, because that would make me look reactive, overly sensitive, and untrusting. As calmly as possible, I pointed out why I was concerned about Anne-Marie and why I wondered if she and Paul were "involved." The way he talked to her and about her, all the late nights with Paul and Anne-Marie alone in the office, the apartment near the office funded by the cash-strapped company ostensibly for Anne-Marie's sole use, the unusual promotion of Anne-Marie so that only she was at no financial risk by working for this start-up. I even mentioned that Paul came home sometimes almost voracious for sex, and I knew it had nothing to do with his feelings for me. A woman just knows!
The therapist looked at me. "Have you ever asked Paul if he's having an affair?"
"No, I guess not," I responded.
"Maybe you should."
"Now?"
"Why not?" the therapist replied.
My heart quickened, my throat tightened, and my brow glazed over with a thin film of sweat. The part of me that knew what was about to happen, without knowing that I knew, predicted that this was a setup.
"Paul," I said, "are you having an affair with Anne-Marie?"
What followed were a series of evasive techniques sociopaths and other liars use. Not even the therapist was schooled in them, so he became an unwitting co-conspirator in allowing Paul to use therapy as a stage for manipulation, empowering Paul with his implicit endorsement.
"I am so hurt that you would even think that," Paul replied, appearing genuinely concerned. Notice, he did not answer the question. Instead, he used the diversion tactics of trying to elicit pity and putting me on the defensive and implicitly attacking my character for hurting him.
"Paul, I hope you understand why I need to know. You seem almost obsessed with her, and I feel nothing but ignored and criticized."
"You know how honest I am and how much I value my integrity. I'm not that kind of person," Paul said. To add support for this, he told the therapist about his many accomplishments and past volunteer work. (Ironically, Paul had done no volunteer work since business school and probably only did it before school to pad his application.) Once again, while Paul appeared to address my concern, he had actually released a smokescreen of evasion, misleading by providing evidence of his character, as if a person who "does good" in one setting cannot be a lying, scheming, cheater in another. Trust me, they can.
"Paul," I said, "it all seems to add up. I need to know."
"I can't believe you think that I'm cheating on you," Paul said, appearing convincingly hurt by the accusation. "Anne-Marie and I are working "˜round the clock to make this company a success, to give our employees paychecks, to give the kids and us the life we want. It's that simple. It's your obsession with her and your jealousy of her that have me worried." Again, Paul had not addressed the question. Instead, he tried to elicit pity, to put me on the defensive, and use his perceived "character" to address the question that still remained unanswered.
"Paul, are you sleeping with Anne-Marie or not?"
With the most humble, honest, "great guy," hurt look in his arsenal, Paul turned to the therapist and then to me. "No, I'm not sleeping with Anne-Marie."
By trying to ask a highly specific question to counteract all the times Paul responded to my questions without actually answering them, I fell into another of Paul's traps. Clearly, I wanted to know whether Paul was currently or ever involved in a sexual relationship with Anne-Marie. By Paul not really answering my questions, I asked a more specific question, but I did not ask the "perfect" question. This enabled Paul to answer in a way that misled and misrepresented without actually lying—one of his favorite techniques and one at which he excelled. In retrospect, I know this was almost a game to him, to see if he could lie by telling selective truths. Is he sleeping with Anne-Marie? Of course not, because that would imply it was happening right now, and right now, Paul was in a therapy session with me. Also, it was possible that they actually never fell asleep together but just had sex, so Paul could argue that his interpretation of the phrase "sleeping with" could "honestly" have been different than the intended meaning in my sentence (i.e., having sex). If he could argue, even in his own mind, that he understood my question to be asking if he and Anne-Marie were asleep somewhere together at that very moment, then his answer was not a lie. "Honest" Paul had prevailed again.
If I realized I had stumbled into a trap, and if I, therefore, asked the question another way, such as, "Paul, have you ever had sex with Anne-Marie?" then Paul would have likely not answered the question but accused me of hounding and harassing him like a prosecutor with a hostile witness. Most people would agree with Paul, that he had already answered the question multiple times. But had he? He had evaded, deflected, ignored, and become indignant about my question, but he had never really answered it. Throughout this entire surreal scene, I appeared to be a shrew for battering poor, kind, sweet, caring, honest Paul.
Words and language are not universal constants. They mean different things to different people, and meaning depends on context. As a result, sociopaths orchestrate words to obfuscate through selective "truth telling." A classic example of misleading with language is found in President Clinton's response when questioned about his testimony regarding Monica Lewinsky. He said—"It depends upon what the meaning of the word "˜is' is." I am in no way saying President Clinton is a sociopath. In fact, I highly doubt he is, but his language skills were and are masterful. Paul's are, too. Many sociopaths have this gift. Sociopaths are chronic liars and are highly skilled at verbal deception. They have years of practice honing the skill of telling undetectable lies and diverting, deflating, and discrediting those who glimpse the truth.
By offering a totally different representation of our relationship, Paul twisted our therapist into viewing him as the doting, caring husband whose kindness and compassion were evident in the fact that he still loved and was concerned about helping his depressed, anxious wife. No matter what example I used to explain my sense of being minimized and dismissed, calm, collected, manipulative Paul always had a different twist. Paul was able to tell his version with complete conviction, devoid of tension or agitation. Remember, sociopaths do not experience fear, particularly fear associated with lying. Meanwhile, my version was laced with hurt and sadness and occasional tears I no longer had the strength to contain. This only made Paul look like a rock and made me seem like shifting sand. When all else failed, I used the example of Paul insisting that we purchase the house as indicative of how off kilter our relationship and ability to communicate had become. Paul twisted even that to his advantage.
"I'm so worried about Onna. She seems so sensitive to everything and to feel she needs to be in complete control," Paul said. "Yes, I'd wanted to buy that house, and yes, I knew Onna had reservations, but I never knew her reservations were so serious. I just thought they were part of a healthy discussion, and we had to weigh the pros and cons."
"But Paul," I said, "I told you I hated the house and that I didn't want to buy the house, and I gave you all my reasons for feeling that way. You said you were going to get it without me, leaving me and the kids if necessary."
With the most caring, compassionate look, Paul leaned forward and touched me gently. His eyes connected with our therapist's and then switched soulfully back to me. "Onna, I was just joking if I ever said anything like that. How could you think I was serious? I'd never do that. Why would I ever ask you to buy a house you didn't love as much as I did? If I ever thought you didn't know I was just joking, I would've clarified it. I can't believe we bought a house that you didn't like. Don't you remember I was worried so much about this and your happiness that I told you that we didn't have to buy this house if you didn't want to? You remember that, don't you, honey?"
If a therapist is unwilling or unable to look for the signs of a sociopath in a failing marriage, marital therapy is a useless, expensive, and potentially damaging exercise, just one more tool a sociopath can use to weaken, dominate, and control. Save your money; don't bother.
Paul was too good. It was true that he had told me we did not have to buy the house if I did not want to buy it, but he had told me that in September, when getting out of the contract with the builder would have been a legal and financial nightmare, when we had already invested a considerable amount of money in extras that Paul just had to have, and when it would have meant house hunting again just as the kids were starting pre-school and kindergarten. Under that scenario, continuing with a house that would be done in less than two months seemed like the best decision to minimize the chaos in our lives and to avoid a heinous legal battle along with the resulting financial strain. Like so many sociopaths, Paul's misrepresentation was built on a kernel of truth. He had actually uttered the words "We don't have to buy this house if you don't want to." His story was simple, my explanation complicated. He seemed steady and caring. I seemed unnerved and in denial. Paul's version prevailed, because our therapist never questioned Paul's steady, clear, confident version of events.
Unfortunately, not only do most of us have a lot to learn about sociopaths, so do most therapists. Therapists may even have a built-in bias that allows them to be hoodwinked by sociopaths. Perhaps therapists think their education gives them a unique insight into who people really are and whether or not a person is telling the truth or lying. But if they have not studied sociopaths and deceptive techniques, even trained therapists are no match for a sociopath's masterful manipulation. Actors are good at their craft, and sociopaths are accomplished actors.
Secondly, to be a therapist, you must believe in an individual's capacity to change. Yet, because sociopaths do not care how their behavior affects others and cannot experience the happiness that comes from genuine human relationships, what is their motivation to change? There is none. In fact, some have suggested that therapy only makes sociopaths more effective manipulators, because it builds their expertise in talking and acting as if they care, thereby adding to and increasing the effectiveness of their devious toolkit.
Sociopaths brilliantly and convincingly create false impressions with other important people, like lawyers and judges, on whom we rely to know better but who have not been educated about sociopaths. In her insightful forward to Tina Swithin's book Divorcing a Narcissist: Advice from the Battlefield, Dr. Rebecca Merritt Davis describes how those with Narcissistic Personality Disorder (the closest official diagnosis to what laypeople refer to as a sociopath or psychopath) are often calm and convincing in court while the nonnarcissistic parent comes across as anxious, agitated, and depressed due to prolonged emotional abuse. In this context, reports that the narcissistic parent has neglected or abused his children are typically viewed as false and even recast as inappropriate (and unlawful) attempts by the nonnarcissistic parent to alienate the children from the narcissistic parent. As the impressions given by the narcissistic parent (calm, loving, and in emotional control) and of the nonnarcissistic, but emotionally abused parent (upset, agitated, worried, depressed) are the reverse of what untrained, unknowledgeable people expect, the courts often make highly flawed and potentially dangerous custody and visitation decisions. It is hard to believe how wrong "experts" (e.g., therapists, psychologists, family lawyers, and judges) can be until you've lived it.
Start from the beginning:
Go to previous chapter:
Go to the next chapter:
Notes
Identifying names, places, events, characteristics, etc. that I discuss here and in my book have been altered to protect the identity of everyone involved.