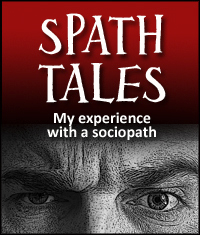 Editor's note: Lovefraud received the following story from a reader whom we'll call "Clint."
You have heard the story hundreds of times. I was a naive do-gooder with a new friend that i just could not figure out. Last night, he explained himself to me in way I would not have believed possible.
A little background on me: I am an engineer/scientist in my education and way of thinking. I do not believe anything that cannot be proven in a controlled experiment or supported by scientific data. I do not believe in magic, ghosts, ESP, UFO's, voodoo, witchcraft, good & evil, etc. etc. That is until last night. I realize now that i should not dismiss things not fully understood.
I met a 23 year old guy named Alex about 3 years ago. We quickly became friends and I integrated him into nearly every facet of my life and inherently trusted him as fully as my brother or mother. I always knew something wasn't quite right about Alex's psyche but was unable to pin it down. I found him fascinating and I literally studied his every move in an attempt to figure him out. In the process, I have become almost obsessively in love and lust with him. I am 50 years old and I have never experienced love and passion with such intensity.
Long story short, I recently figured out that he is a sociopath and confronted him. He pulled me in closer and tried to explain the he did not actively plan and think about ways to hurt people. I was simply incapable of understanding him. My mind is "pure as the ocean" as he says. I have never experienced evil thoughts.
Last night, Alex and I communicated telepathically. I don't know how it happened nor the process that allowed it to happen, but for several minutes I was actually inside his head and I could see, feel, and hear the whole experience of what it is to be Alex. It was absolute terror. It was the most profound, scariest, and most horrific experience of my life. I literally ran out of his house screaming. Have you ever heard of this telepathic connection thing before? I understand him now.
I understand how a sociopathic mind works. I know why they mistreat animals and commit violent acts at an age when they should have no concept of what they are doing. I understand now that I am in real danger because this thing is inhuman and lacks a soul. It's a freak of nature that resembles a normal mind turned inside out. Everything about good & evil and right & wrong is in reverse. Oh my god there is pure evil all around us.
What now?