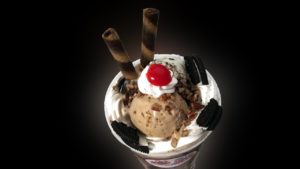 Editor's note: Liberty Forrest, author of several self-help books and a certified Law of Attraction Life Coach, encourages you to indulge yourself. You'll feel better — especially after you've given up so much for the sociopath. Read more about Liberty.
By Liberty Forrest
Abstinence makes the heart grow fungus. Okay, that's not exactly how the saying goes. But it makes my point.
abstinence, noun (ab-stuh-nuhns)

1. forbearance from any indulgence of appetite, especially from the use of alcoholic beverages: eg. total abstinence.

2. any self-restraint, self-denial, or forbearance.
So…that sounds like a whole lotta fun. Not. So what's the point?
Well, I suppose a little self-restraint here and there is a good thing, if it's serving a useful purpose. For example, not running through the streets, naked. And not blowing out your sociopath ex's brains. Definitely do not do that.
To be honest, I suppose it's a good thing to practice self-discipline now and then. After all, there is a time and a place for everything and when it's not the time or the place for something, it will have been helpful to have learned to wait and be patient. Otherwise, you could find yourself having a meltdown like a spoiled two-year-old and that really wouldn't be cool.
And if it is the time or place to do something not-so-much fun, self-discipline is good to help you get it all done. So, okay, let's have just enough self- restraint to be good for us, keep us out of trouble and stop us from hurting anyone (including ourselves).
That being said, I can't see any good reason for abstaining from doing or having something that lights you up for a while. As long as no one is being hurt by your indulgence, why not indulge yourself to your heart's content? What's the point of denying yourself pleasure, if it causes no harm to anyone, yourself included?
Lessons after the sociopath: Real love is easy
There is more than enough pain and misery in life, and more than enough unhappiness. Especially if you've been tormented by life with a sociopath. You will definitely be well overdue for some TLC and a hefty dose of pampering and enjoyment of as many simple pleasures as you can stand. There are plenty of times when we don't get what we want and more than enough occasions on which we must do without. And sometimes we just need a "pick-me-up" treat, something that will make you smile, lift your spirits, and make you feel special. No doubt the sociopath in your life has sucked out every bit of fun or "feel good" moments from your life and heaven knows you could use a bunch more right now.
So if there is no useful purpose in denying yourself a little pleasure (or in fact, a lot of it), why would you do that to yourself?
If you're craving that big fat piece of cheesecake, or you're aching to slack off and have a nap … if you're overdue for some cuddles or some alone time or you could stand buying yourself a little pick-me-up goodie that doesn't blow the budget out of the water … if you're itching to be a little naughty … if you're missing your guilty pleasures … whatever it is that your heart desires, go ahead and give in, indulge yourself, delight in it.
Just remember, the qualifier here is "as long as no one is being harmed, including yourself." If you bear that in mind while in hot pursuit of a little something that will light up your world, your life will become so much more exciting. It'll feel like something of an adventure and your senses will be heightened. You will have fun! You could even experience bliss! How long has it been since you could say you felt blissful?
Locking up your heart in a dark, damp, unhappy place of abstinence will indeed only cover it in fungus! Bring it out and let it bathe in the warm glow of indulgence, let it play and enjoy the pleasures it'll get from all those wonderful goodies for which it's been yearning.
Learn more: Self-care for survivors
Spoil it rotten. Treat it like it's your grandchild and give it all the goodies it wants. Let it be free! Feed it junk food! Don't tell it "No!" Tell it "Yes, yes, yes!"
Indulgence awaits…
C'mon. You know you want to indulge yourself … Your heart will thank you for it.
This article was originally published at LibertyForrest.com. Reprinted with permission from the author.