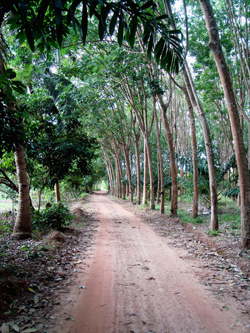 Editor's note: The following was written by a Lovefraud reader.
By Cynthia Creswell
I took the road that shouldn't be traveled, so alluring was this path! Decadent flowers framed the entrance, the sweet smells of their majestic perfume luring me in, dripping with promises. The trees' flowering branches beckoned me in as though the crook of a finger, enticing me to enjoy its nectar.
I listened to the call as it promised me things it knew I wanted; the soft, lush grass under my feet as to make my journey easier, the promise of sunshine to warm my soul, the glistening of dew covered foliage to pleasure my eyes and cool my brow… 'Come here to rest' it beckoned, 'let me care for you.' Unable to resist its promises I stepped through the door and entered its world, knowing in the recesses of my mind that no road is ever perfect. But the sun did indeed feel warm, the grasses like velvet. And I danced and sang as a child, grateful to have taken this direction, caught in the moment of bliss. 'You are perfect' it whispered. And I flourished.
As I continued to venture down my road the sun became less warm and slipped behind the clouds, peeking out only occasionally. The flowering branches became barren tree limbs that battered my face as I made my way down the now dark and dusty path before me. Where went the sun to warm my soul, I cried; the majestic, brilliant flowers? Where is the dew to quench my thirst? What of the promises? 'You are not worthy of such beauty' it hissed, 'this is the world you deserve!' In my confusion, I believed him.
Soon my new world became familiar to me. I learned to accept the cold, I no longer remembered the sun; its promises to care for me were forgotten and I eagerly accepted those moments when the sun was allowed to escape through the clouds. When it did I fell to my knees, face turned upward to greet its warmth. 'You are perfect' it whispered, 'for the moment, you are perfect.' But the darkness soon returned with its message of disdain, and though I danced and sang to earn back the light I felt only coldness and was confused by the message.
Many times I saw a break in the trees, a way out. But it seemed too difficult and in my fear I remained on my road as it was now my home, a place deserving of me.
As I journeyed onward, new, different voices began to whisper in my ear; those of encouragement and hope, those telling me a better world existed which I was more deserving of. But the darkness heard it too and worked hard to stifle it, competing with its message. Back and forth my heart swayed until in desperation I curled up against a rock seeking solace. Head in my hands I cried trying to break free from the confusion when I felt the sudden warmth of sunshine caressing my face. Lifting my head I saw another clearing, a more promising exit. The invisible barriers which had held me hostage for so long broke free and I slowly stood and moved towards freedom. As I made my way forward I realized that the messages from the darkness lost their power, dropping like shackled chains to the ground; the disappointments of false promises had not yet quenched my light. In one last desperate movement the barren twisted branches reached out to keep me in its world, winding through my ankles and grasping at my waist. Still I ventured on, shaking them off with a new found strength. 'You are worthy' a voice whispered, 'You are perfect!' 'You need me' hissed another, 'You're unworthy!' But the light permeated the darkness and the darkness slipped away with its vile words back into its tunnel of confusion and despair, and I felt the warmth of the sun again with its promises as I stepped in the light and through the clearing; free at last.
At the entrance of the path stands another young woman, innocent and trusting in her ways. So alluring is this path! Decadent flowers frame the entrance, the sweet smells of their majestic perfume luring her in, offering her what it knows she needs…