by Quinn Pierce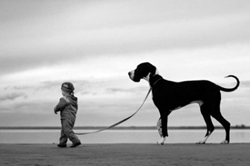 I sat in the small, tastefully furnished room and listened to the tick"¦tick"¦tick of the clock. I had long since stopped listening to the conversation going on around me.
This was not the way it was supposed to be. I stepped into the psychologist's office less than a half hour earlier full of optimism and hope. Unfortunately, I was, once again, realizing how naive I had been.
An Insincere Effort
For nearly a year, I had been begging and pleading with my (then) husband to come to marriage counseling. Our relationship was deteriorating a a rate that was destined for destruction. He always supported me and the children going to counseling, so I was amazed when he adamantly refused to go either alone or with me.
I had reached a point where I had given up on ever going to marriage counseling. I could see my marriage spiraling out of control. Maybe, my husband sensed the shift in my attitude and that is why he surprised me by agreeing to go to counseling.
It was not what I had expected.
The Chameleon
From the minute we walked into the therapist's office, I hardly recognized the man I had been married to for over ten years. Before we arrived, he seemed nervous, solemn, and wavering between annoyed and contrite. But the man who strode in front of me reaching his hand out to the psychologist and greeting him with a confident smile, was far from nervous; I would even say he was arrogant.
I can look back, as I often do, and pick up on the subtle cues I missed at the time- those cues that explained my ex-husband's behavior. For example, as we were walking into the office, I pointed to the name on the door and my ex-husband made a comment that showed me he thought our therapist was going to be a woman. I asked him if it mattered, and he reassured me that it didn't matter to him either way.
Setting the Stage

I believe that it truly didn't matter who our counselor was, but he needed to know what side of his personality to reveal, so the more information he had ahead of time, the better. Of course, he would do his most important last-minute evaluation of the therapist upon meeting him. The face-to-face is what he would use to put the finishing touches on his persona of the day.
This particular persona was complimentary and flirtatious, only it wasn't directed towards me, but rather, the male marriage counselor who greeted us. Sometimes, I honestly couldn't tell which was the act: flirting with women, or flirting with men. Either way, it didn't register with me on an emotional level. I wasn't jealous or threatened by his flirting and compliments to others, I knew they were as meaningless as those he gave me.
Playing the Role
Today's act was one of his most effective. Within minutes, the counselor assessed our relationship and decided I was the difficult spouse and my husband was the misunderstood victim. When the counselor asked me why I would be concerned about my husband's anger, I tried to explain that he had rage filled outbursts that were unpredictable and scary. The counselor turned toward my husband, tilted his head, and asked with a hint of sarcasm, "You wouldn't hurt your wife would you?" To which my husband answered, "Of course not!" As if it were the most absurd question he had ever heard. The counselor turned back to me with a condescending smile and said, "See?"
Then, as if the matter were completely resolved and I was not sitting across from an aggressive man who had smashed objects, punched holes in walls, abused our animals, thrown things at me, and destroyed many areas of our home in violent rages, he turned back to address both of us and asked, "So, what else?"
Disappointment Sets In
I'm not sure how much time went by as my brain tried to grasp everything that just happened. It was as if the room was spinning in slow motion. I could hear my husband's laughter, that forced, insincere laugh he used so often on those he wanted as allies, but didn't really like.
This isn't fair! I thought to myself, I was the one who wanted to go to marriage counseling. I wanted to be able to talk about what was happening in our home and explain how hurtful the abuse had been and how serious it was. I needed help explaining everything; I needed help understanding everything; I needed"¦help.
I knew immediately that I was not going to get help here. I had been dismissed, and at the moment, I was being mocked. I wanted to cry, but even more, I wanted to leave. I sat nearly silently for the next half hour. I was too numb to be surprised when my husband eagerly made an appointment for the following week. I returned for one more appointment, just to verify that my initial experience was not a freak occurrence and everything would be back to normal. Unfortunately, this was not the case.
I'm not sure which was more pleasing to my husband at the time, not having to go to marriage counseling, or me being the one to end the sessions.
His Last Ditch Effort
The next time we would go to marriage counseling, it would be his last ditch effort to avoid divorce proceedings. However, by that time, our marriage had deteriorated to the point where he could no longer hold the facade or act in an amicable way around me. The second marriage counselor was very insightful, objective, and knowledgeable. To my husband's dismay, she was not easily swayed by his practiced charm.
Within a month, he was unable to tolerate criticism of any form and stormed out of the sessions on a regular basis. By the third month, the counselor did not mince words when she advised me to get away from him as quickly as possible. I took her advice, and that of my own counselor, and never looked back.
The False Caregiver
I understood by then why my ex-husband encouraged counseling for the rest of the family all those years, but never for himself. In his mind, if I was in counseling, it was because I was unstable, or at least he could present it to other people that way. He also enjoyed the role of caregiver, as long as it meant keeping me unhealthy and needing him.
In regards to our children, I would later learn that he intended to blame all future problems on my unhealthy influence and claim he was the only stable family member who was left to take care of the rest of us. My ex-husband believed that going to counseling was a sign of a weak and unhealthy individual. He would soon learn that just the opposite was true.
Everyone Else Is Crazy
Ironically, the stronger I became, the less my husband supported my continued therapy sessions. He tried his best to discredit my counselor; he even showed up at a few of my sessions so he could voice his opinion. When nothing went his way, he started calling my family members and telling them my counselor was putting ideas in my head and giving me all sorts of medications that were making me act crazy.
In the end, none of his tactics worked. Staying true to form, he eventually switched camps when he realized he could gain something by going to counseling. Of course, his health and his family were not the gain he was looking for. He thought it would make him appear more sympathetic to the courts if he was seeking counseling because he was so distraught about losing his family, etc.
Always Looking For an Angle
I guarantee that it still doesn't matter who my ex-husband's counselor is, as long as it is someone who believes him to be sincere, endearing, sympathetic and, of course, the victim. I wonder how many mental health professionals he has gone through in search of one he can manipulate. Even then, loyalty is not one of his strong suits.
In fact, the one consistent characteristic of his personality is his ability to carelessly discard anyone who is no longer useful to him in any way. I learned the hard way that this includes friends, family, wives, and even his own children.
True Healing
Fortunately, my children and I knew the benefits of counseling long before the negative experiences I had with my ex-husband's participation. Since my divorce, we have continued to work hard to grow and heal, while my ex-husband continues to search for others he can manipulate.
As disastrous as they were, I don't regret my attempts to repair my relationship in marriage counseling. I entered the sessions with an honest effort and genuine concern. During most sessions, my ex-husband claimed in an accusing way that I had changed into someone he didn't recognize. Even if it was meant as an insult, it's probably the only real compliment he ever gave me.