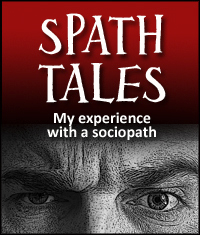 Editor's note: Lovefraud received the following letter from a reader whom we'll call "Avril." Names are changed.
It's not possible for me to tell my entire story in a short blog, it'd need a whole book, but let me give you a bite-sized round up.
This year marks 20 years since the blight entered our lives. I was a 32-year-old divorced mother of two small children, I was on holiday with my mother, my terminally ill father and my little sons. He was a brown-eyed handsome man who was running the bar at the resort. He was utterly charming and his eyes twinkled when he smiled. I had no chance.
When I met him, though I was vulnerable I did have my own home, a secure part-time job and a reasonable income. He had nothing, due to, as he told me, his generosity in giving his ex-wife everything when they separated. The poor man had been through a terrible time with his first wife apparently and referred to her as 'the psycho bitch'.
Anyway, during the course of the next 15 years I was isolated from all family and friends, was persuaded to leave my job in a busy office and work alone as a cleaner, was beaten up and throttled on many occasions, became a nervous wreck, developed a stammer, became the second Mrs Gardner and subsequently the newly crowned 'psycho bitch', fell pregnant with his child after he raped me on holiday, lost all sense of myself, any trace of self esteem and finally lost my home.
I eventually managed to extricate myself from him to some degree and he proceeded to move around England wreaking havoc with one employer and then the next as he conned a number of property lettings agents into taking him on only to have all of them dismiss him when they discovered the various frauds he was committing in their name.
Naturally, he abandoned the son that he created although his side of the story is very, very different of course. Whilst it has been exceedingly difficult to be a single mother with no financial support, I am deeply grateful for my beautiful, talented, loving son and thankful beyond words that he has not been exposed to the poison of the other parent — I cannot bring myself to refer to him as a father.
And so to today.
Today I sit writing this at my laptop in the beautiful little home that I rent in a gorgeous part of northern England. It's 5 years since I've set eyes on David Gardner. He's remarried and divorced again and I dare say that ex-wife number 3 now wears the psycho bitch crown that has sat atop so many heads. My happy, handsome, gifted son is now 14 years old. This morning he kissed me goodbye and told me he loves me as he does every time I drop him off at school and my heart was filled with joy and gratitude for his very existence in my life.
Tonight I shall drive to the theatre again to perform in front of another full house.
The long road to recovery started in 2010 when I, with enormous trepidation, joined a community theatre group with the goal of conquering my fear of public speaking. I found my true path at that theatre and today I work as a professional actress and television presenter.
One night in May 2002, I lay sobbing on the ground in the front yard of my house. My body was beaten, my was hair ripped out in chunks from being dragged down the hallway and thrown out into the black, rain sodden night and I just wanted to die. If anyone had have told me then that one day I would stand on stage and receive the applause of an appreciative audience I would have thought them mad.
Do whatever it takes is to get away from the sociopath in your life. The whole world is waiting to embrace you when you do.