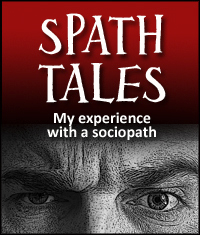 Editor's note: Lovefraud received the following story from a reader whom we'll call, "Laurie22." She wrote about marrying a sociopath who documented his abuse. Names are changed.
I met Eddie during the pandemic. We had the most romantic socially distanced first date. As a cancer patient and survivor and single parent, I thought I hit my jackpot. I had waited so long and he wasn't the typical guy I dated. Icy blue eyes. Short. Balding. But I thought that love meant that you looked inward. And I fell in love with him deeply.
We got married December 31, 2020 at a celebrity mansion. Within 72 hours of our marriage, we had an affidavit from his ex-wife (divorced 2 years) claiming abuse. He promised like everything else that it was just lies.
Read more: Seduced by a sociopath — it's not love, it's love fraud
We were in and out of court for months. I stood by him because I couldn't imagine him hurting anyone. By summer, he was having outbursts.
The abuse starts
In the fall I was diagnosed with breast cancer — my eighth time. That's when things hit the proverbial fan. I found out he was on dating websites. I found out he was planning to take a weeklong vacation after my cancer surgery by himself. I found out he had lied about almost everything. And then the abuse started.
At first it was chairs being thrown. Screens broken. A boot through a metal gate. Hangers shattered.
Soon he was hurting our pets and my kids. Right after Christmas I started making safety plans. And in January I kicked him out with the police.
He's made every day of my life a living hell ever since. Financial abuse. Threats.
He currently has criminal cases against him. I got my order protection twice in court. And he is still trying to come after me for harassment. I haven't had a day to breathe in almost 2 months.
A sociopath who documented his abuse
The worst part is after he left, I found two journals and hundreds of pages documenting abuse to his ex-wife. He cataloged it all. I paid for him to victimize her further in court.
No one was spared. Our dog is at a foster currently. My son is in some pretty significant counseling. With no prior mental health issues, I was diagnosed with PTSD. Our cat is on Prozac.
Learn more: What did they want? Psychopaths, antisocial and other exploiters in romantic relationships
Eddie was the worst choice I ever made. And to top it all off? I found out today that he was planning to move to Colorado months before I ever kicked him out. And I have receipts for everything. Screenshots and court documents. I can prove everything I've said.