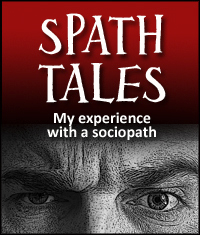 Editor's Note: This SPATH tale was submitted by the Lovefraud reader whom we'll call "Corrine."
I stayed married to a narcisstic personality disordered sociopath for 25 years.
He always had mistresses he would throw up in my face and sincerely enjoyed hurting me, through words, looks, violence and strangulation.
He used to hurt the children because he knew it would hurt me.
I was always dealing with some crisis, real or imagined on his part. I realize now that it was what he used to distance himself so he would not have to be intimate. He never displayed affection, or caring for any of his children (three sons and one daughter).
He died two weeks ago and there is nothing in his will for them.
When I finally left because I did not want my children to see me with any more black eyes, he and his real estate lawyer swindled the children and me out of our family home.
I put this man through university in the 60's (pharmacy) and as far as I was to know HE became wealthy! He owned his pharmacy, our red brick farm house on 40 acres — a home which I pine for to this day, after 30 years of separation.
I was given three years support for my 30 years of investment in him and the children. I was not sane when I finally managed to escape. The fear and nightmares are still with me.
PTSD it is called. I still take serious anti-depressants daily, otherwise I am suicidal.
A person only gets one life and he ripped my off for mine. When he moved on to his new victim, he would have nothing to do with me or his children for 30 years.
He betrayed our oldest son so many times, he disappeared. It's been over 15 years now. His sister is trying to find him somewhere in Toronto.
When my youngest learned of his father's death he said to me "good, the Devil is gone".
I am only learning now about some of the abuse directed at the children, their rooms and their possessions. We all at one time or another have ended up on assistance, our esteem issues are horrendous.
The boys were told that they were assh***s, I was a stupid c*nt. There was never a moment spent with him that he was not critical or extremely judgmental.
His body language was enough to frighten the life out of a person, as well as his rages. We were his possessions and he would do with us as he pleased.
I foolishly asked him to come home once in a moment of weakness, and he said that he could not as he had told too many lies about me and the children — I was a lesbian, so he had to f*** around. I was alcoholic, the children were all into drugs, and we were all worthless.
We always wondered why other people treated us with disdain, and then it finally made sense. He did not portray this persona with his employees or friends; everyone thought he was wonderful.
He often took vacations with other men. When I was with him in Cuba I suspected he murdered a woman there. I can't help but think there were others.
Thank you for listening.