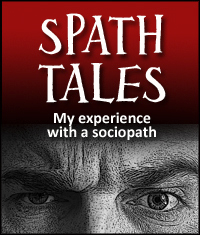 Editor's Note: This SPATH Tale was submitted by the Lovefraud reader whom we'll call "Gerald."
At age 62, I married a gal I'd been in love with all my life. I'd known her in high school and when I re-connected with her I felt that my two divorces were just dues I had to pay to get "the real thing."
I told her that marrying her was like winning the lottery for me.
She soon began to manifest some troubling behaviors fabricating supposed cheating incidents that never happened and misunderstanding small incidents. She became hyper-critical of everything I said or did.
The first real clue I had to the nature of the problem was when I mentioned a book I'd read, "The Sociopath Next Door." I'm an avid non-fiction reader, and had an immediate supervisor I felt was a sociopath. After telling her about it she started implying I was delusional and I thought everyone was a sociopath.
We married after dating for six months and within a few weeks she'd left the house and went to live in a woman's shelter telling them she was being abused. This was an absolute lie.
While she was there, she'd call me up and tell me she was trying to get some of the other women there interested in a 3-way with us. When she came to visit, her treatment of me varied according to the proximity of my payday.
I felt she was sick, and was doing everything I could to try and help her.
We were living in different cities and when I finally woke up and realized how she was playing me. When I told her on my weekend visit that I had no money that payday for her, she physically assaulted me, sent me to the ER to be treated for some of the cleaning spray she shot me in the eyes with, and then called up the police and told them I had attacked her.
Fortunately they didn't believe her story.
After our breakup she told all of her friends ( I thought they were my friends too) that I was a drug addict and abusive to her, and that I'd assaulted her and duped the police.
She refused to sign the annulment papers because I was paying for her health insurance and cell phone.
She got about 10 thousand dollars from me and has refused any further contact.
She did contact my daughter and told her many lies about me and tried to turn her against me. (My kids and I were too close for this to have ever happened.)
The foul and blatant way she treated me has left me hurt, angry and in the mood to out her. I contacted one of her ex-friends and got the same story about her. She'd thought they were good friends but found out my ex was attacking her with all of their friends behind her back.
For a long time I felt she was sick and wanted to help her because I'd sworn to love her in sickness and in health.
I still feel like a fool for being blinded by love.