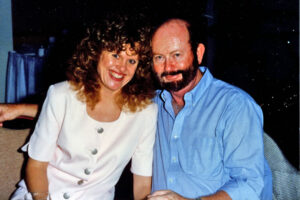 Yes, it is possible to have good times with a sociopath. They can be the life of the party, exciting and entertaining. They can enjoy sports, movies, museums, exotic cars, fine dining and all kinds of music. They can love to travel, from local road trips to round-the-world voyages. And through all these adventures, they can create special, unforgettable moments.
Correction: The moments seem special and unforgettable at the time. But once you come to the painful realization that the person you shared them with is a sociopath, you're faced with another shock: All those good times with the sociopath were fake.
Traveling with my sociopathic ex-husband
I shared multiple memorable experiences with my sociopathic ex-husband, James Montgomery. At first, I felt like I was on the adventure of a lifetime. Not long after we met, he proposed. Yes, I accepted too quickly, but like I said, it felt like an adventure. Then, he wanted to go to Australia, his home, to get married.
"We know we want to be married; why should we wait?" was his rationale. I now realize that he wanted me committed to the relationship before I escaped.
Read more: Seduced by a sociopath — It's not love, it's love fraud
We had a second wedding for my family in New Jersey, and then went to Paris for our honeymoon. Six months later we went to Bermuda, and six months after that we went to Paris again. Why all the international travel? I eventually figured out that he was in the country illegally and had to keep leaving and returning so he didn't overstay his visa.
Making connections
James Montgomery presented himself as an entrepreneur with big ideas that were sure to turn into big businesses. He networked incessantly in search of connections and backers.
We went to nice social events. He started a Lions Club, and at the black-tie dinner where the club received its charter, I sat with him at the head table. Touting his experience as a Vietnam veteran, he was the keynote speaker at Veterans Day ceremonies and did presentations to school children, which I was pleased to attend.
It was only after I left him that I learned he was never in the military. He participated in military functions to make himself seem legitimate. The truth was, he had no local connections, no track record and no money. He involved me in these activities to convince me to keep my money spigot on.
Sex with a purpose
One of the most pleasurable and stimulating activities human beings can engage in is sex. I will admit, my sex life with James Montgomery started off with a bang. He made me feel wanted, attractive and passionate. He did it on purpose.
Sociopaths can be exciting sexual partners. They usually have huge appetites, lots of stamina and no inhibitions. Sex is one of the activities they enjoy most in life.
Still, for them, sex is more than physical satisfaction. It is a tool to assert power and control over someone else. They know that if they can seduce their target sexually, it will be easier to get everything else that they want from the person.
Why? Sex floods your body with oxytocin, a hormone and neurotransmitter that is integral to bonding. Oxytocin makes you feel calm, content and trusting — especially trusting of the person who triggered all the oxytocin.
So for me there was exciting sex, then the ask — and I gave in.
The grand gesture
Another way that sociopaths create special moments is through the grand gesture. They do something, usually with an audience, to make you feel like the most important person in the world. Again, the objective is to hook you.
A Lovefraud reader once told me her story of the grand gesture. She had become disillusioned with the man she was dating. Yes, the man was unbelievably handsome, but he'd convinced her to pay his expenses, and he wasn't paying her back. She broke up with him.
My reader worked in a multi-story office building with a big atrium. The man put on his best suit, bought a huge bouquet of long-stem roses, and asked her to come down to the atrium to see him. She did, and right there in front of all the office workers, he got down on his knee and proposed.
My reader said yes. "I succumbed," she admitted. They married. He continued to bleed her money. Then he became violent.
The grand gesture was his ploy to lock her into the marriage.
Good times with the sociopath
When the sociopath suggests exotic travel or exciting adventures, or beckons you to bed, they have an ulterior motive. But you won't figure that out that right away.
You may start to question your involvement with the sociopath — you see the sudden coldness or anger, the stories that don't add up, the failure to take responsibility. Who is this person? As you struggle to decide what to do, your memories of the good times with the sociopath may cloud your thinking. Those moments were so special — do you really want to walk away from them?
Maybe this will help: The special moments were all fake.
Always an agenda
Here's the key point: When you're dealing with a sociopath, there is always an agenda. If this person is saying "I love you," it's because they want something, and they know that the words "I love you" get them what they want.
Even if you can't discern what the sociopath gained from an experience you had together, you may notice that you always did what the sociopath wanted, and not what you wanted to do. Or that you were the one paying for the adventures. You may realize that, for the sociopath, it was always "all about me."
So don't let the good times with the sociopath prevent you from protecting yourself. Those good times were never what you thought they were.
Learn more: Survivor's guide to healthy people and healthy relationships