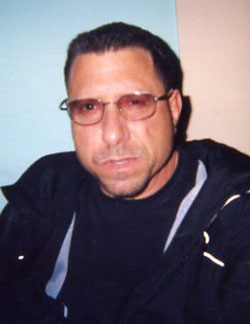 First Dennis SanSeverino flashes wads of cash, then he steals her home and inheritance
For seven months in 2008, Dennis SanSeverino was supposed to go before Judge
Raymond Batten in Cape May Court House, New Jersey, for a violation of probation hearing. In August, 2006, SanSeverino, who pleaded guilty to taking $275,000 from his former fiancé in a love fraud, was ordered to pay $2,000 per month in restitution. But after buying and refinancing multiple properties to the hilt, then declaring bankruptcy, he hadn't been doing it.
Trish Rynn, the woman he scammed, says he took close to $1 million out of six properties. She believes he laundered the money and hid it.
"That's what he told me he was going to do when I said I was going to the police," she says.
After multiple postponements, SanSeverino's hearing was finally scheduled for September 26, 2008. He didn't show up, and the judge issued a warrant for his arrest.

Finally, in April 2009, SanSeverino was arrested on a traffic violation in Pennsylvania and extradited to New Jersey for his violation of probation hearing. He was sent to jail for failing to make restitution as ordered to his victim, Trish Rynn.
Pursuit to engagement
Rynn met the con artist in 2001, although at the time she thought he was a real estate investor and a disciplined gambler. Rynn worked as a massage therapist at the Tropicana Hotel and Casino in Atlantic City, New Jersey, where SanSeverino played.
Throughout the spring and early summer of 2001, SanSeverino requested Rynn for his massages every time he drove to the casino from his home in North Haven, Connecticut. He blew kisses to her across the spa, which Rynn found embarrassing. So although she kneaded his muscles, she declined SanSeverino's many invitations to join him for dinner.
Rynn did, however, chat with SanSeverino during the massage sessions. She revealed that she had recently gone through a difficult breakup with her boyfriend. SanSeverino commiserated, saying his relationship with his girlfriend was terribly unhappy, and he was looking for someone else, someone special. Someone like Trish Rynn.
Finally Rynn decided to give the guy a chance. SanSeverino took her to the Golden Dynasty, Tropicana's gourmet Chinese restaurant. During the luxurious three-hour dinner, he was totally romantic—and a perfect gentleman.
More gourmet dinners in the casino followed—SanSeverino treated not only Rynn, but her girlfriends and her 11-year-old daughter. SanSeverino didn't actually pay for the dinners—he earned them by playing blackjack.
Working in the casino, Rynn saw lots of gamblers, and SanSeverino seemed to be a pro. He would not sit down at a blackjack table if other players were there—he wanted to go one-on-one with the dealer. Occasionally he would lose his entire bankroll—$10,000. When he did, Rynn says, "he had this glazed look on his face." But usually SanSeverino won, adding $2,000 to $3,000 to his bankroll. He happily showed Rynn his wads of cash.
After a couple of months of lavishing his attention on Rynn, SanSeverino started talking about getting married. "You're such a good girl," SanSeverino said, according to Rynn. "I've never met anyone like you. I've prayed to God to meet someone like you." From then on, whenever they were shopping together, they looked at diamond rings.
Investment advice
Business in Atlantic City's casinos drops off dramatically after the summer, and as fall approached, Rynn started worrying about her income. She had a daughter to feed and an ex-husband who was thousands of dollars in arrears on child support payments. She had been so traumatized by 10 years of custody and support battles with her ex-husband that she had previously fallen into clinical depression, and was just getting back on her feet.
Rynn's elderly mother was trying to help. A year earlier, Rynn's mother had bought her a cozy bungalow in Ocean City, New Jersey, which Rynn was fixing up. "It was perfect for me and my daughter," Rynn says. "I loved it."
She'd put in a new roof, new windows, new electrical wiring and a new kitchen. The kitchen, however, had problems—it was not built to code, and needed to be completely redone. Rynn was worried about money for everyday expenses, let alone doing the kitchen over again.
SanSeverino, her fiancé, had a solution.
Rynn had just received a gift of $10,000 from her mother, who was gradually distributing her estate. According to Rynn, SanSeverino recommended that she give him the $10,000 to invest in a diamond cooperative. SanSeverino told her she'd make $400 per month, and she could have her original investment back whenever she wanted.
Rynn didn't know much about financial matters. In fact, along with the depression, she'd been diagnosed with attention deficit hyperactivity disorder (ADHD), which made it difficult for her to focus on the paperwork that generally accompanies financial decisions. Her fiancé, however, was an expert. He was a real estate investor who owned properties in Connecticut and condominiums outside of Atlantic City. Judging by the money he carried around in his socks, he was rich and successful. Rynn loved and trusted SanSeverino.
"We were going to have a family; we were going to have children," Rynn says. "It was something I wanted; my daughter always wanted another sibling. It was just a dream future."
Rynn gave him the $10,000.
Rolex watches
Then SanSeverino had another moneymaking idea. He told Rynn that he had a jeweler friend who wanted to sell Rolex watches, but was not an authorized dealer. SanSeverino knew where to get Rolexes. If Rynn would buy the watches with her American Express card, the jeweler would reimburse Rynn, plus give her $200 profit for every watch.
"We'll buy a couple of watches every month, get the money back and pay your bill," Sanseverino explained, according to Rynn.
Between October 2001 and January 2002, SanSeverino charged 14 Rolex watches to Rynn's credit cards, which added up to $51,613. Rynn says she was repaid for four of the watches, and earned $600 in profit. Then the money stopped.
Rynn confronted SanSeverino. "You need to call your jeweler friend," Rynn demanded. "I need to pay this debt off."
SanSeverino assured her everything was fine. He offered to negotiate with American Express for her—although he would tell them his name was "Bob Flynn." But as time passed and the interest charges mounted, SanSeverino had a confession to make.
"He came to me in January," Rynn relates. "He came to me crying—physical tears."
"I'm in trouble financially," SanSeverino said, according to Rynn. "I can't pay the mortgages on my homes. My jeweler friend didn't take the money.
"I'm so sorry; I'm so sorry," he continued. "I love you so much; I didn't want to hurt you and your daughter; I thought everything would be okay. But I used your money to pay my mortgages."
For Rynn, it was a terrible blow. She always worried about her financial security. Rynn had been slowly recovering from the depression, but this shock sent her spiraling down again. She emotionally fell apart.
Turning over the dream home
SanSeverino continued to assure her of his love, and said that if she trusted him, everything would work out. He agreed to sell his house in North Haven, Conneticut, and use the proceeds to pay her debts. But even though the real estate market was hot, Rynn says SanSeverino always had an excuse for why his house wouldn't sell.
In February 2002, when Rynn received another $20,000 gift from her mother—$10,000 for her and $10,000 for her daughter—SanSeverino offered to make the most of it through investments. In a fog of depression, Rynn agreed, and gave him the money. In fact, he also convinced her to cash out additional $48,000 of her inheritance.
To get rid of the Rolex watch debt, SanSeverino advised her to declare bankruptcy, according to Rynn. In doing so, he said, she had to be careful to protect her Ocean City home from creditors. SanSeverino advised her to put the bungalow in his name.
"I didn't know how to get out of this mess," Rynn says. "I believed him; we were going to be married. He said, 'I want you to get the stress out of your life.'"
Still, Rynn was worried. This was her home—her dream home. She wanted assurances that she'd be protected. So SanSeverino prepared notarized agreements. In the event of his death, the Ocean City home, along with one of his Heather Croft condominiums, located outside of Atlantic City in Egg Harbor Township, New Jersey, would be given to Trish Rynn.
On May 7, 2002, Rynn transferred her Ocean City bungalow to SanSeverino for $1.
Rynn's 12-year-old daughter was angry. "She knew more than I did," Rynn says. "She knew I was scammed. She saw me just fall to pieces.
"We'd bought that house together; we were building it together. Our dreams were gone, and Dennis was showing up less and less."
Rynn's little girl went to spend time with her father. She never returned.
"I thought she'd be back in a few months, but she didn't come back," Rynn says. The mother was heartbroken. "It's more difficult than you can know," she says.
North Wildwood condominium
After that, SanSeverino didn't drive down from Connecticut to see Rynn as much as he used to. His reason, according to Rynn, was that she was too depressed and he couldn't bear to be around her. But he continued to claim financial problems and plead with Rynn for money. Over the summer of 2002, she gave him almost $10,000.
On August 26, 2002, SanSeverino sold Rynn's house for $155,000. Rynn never saw the money.
But SanSeverino still proclaimed his love, and assured her everything would be fine. In February 2003, Rynn thought she found a way for him to make good, and for them to be together. It was a new, four-bedroom condominium under construction in North Wildwood, New Jersey—the last underpriced real estate market at the Jersey Shore.
"We were going to buy the place," Rynn said. "Part of me believed in the relationship, and part of me didn't. But I thought, maybe it will be okay."
Rynn put $6,900 towards the property. But when settlement day came in August 2003, SanSeverino went to the table without her. Rynn's name was not on the deed.
She threatened to go to the police.
"If you go to the police, I'm going to hide all the money," SanSeverino retorted, according to Rynn. "You're never going to get a penny."
Dennis SanSeverino threatens to kill
By this time, Rynn finally admitted to herself that she'd been conned. On October 5, 2003, Rynn called SanSeverino on his cell phone and left a message, stating that she'd contacted a lawyer.
When SanSeverino called back, Rynn told him she planned to file a civil complaint in court. Her fiancé became angry and started to yell at her.
"I'm coming over there to kill you," he said.
Rynn hung up the phone. SanSeverino called back two times and repeated, "I'm coming over there to kill you."
Rynn called the police.