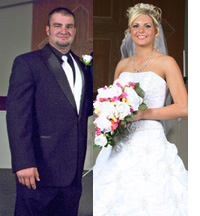 Jarrett Weaver shoots his wife
Then he shoots himself
Jarrett Weaver, of Odessa, Texas, showed up for his wedding to Kelsi Miller on June 2, 2007 with two broken hands. He said he'd dropped heavy equipment on them at work.
"We urged him to seek medical attention," said Debra Miller, mother of the bride. "But he refused. His hands were so swollen that it was hard to fit the ring on his finger."
Debra did not have a good feeling about this marriage. Her daughter, Kelsi, was 21, vivacious and as beautiful as a Miss America contestant. She was working a full-time job at a title company and studying to be a nurse. Kelsi and Jarrett, who was 22, had been dating for less than a year, and she had only met her new son-in-law a few times. The most Debra could say about him was that he was clean cut, didn't have any tattoos or body piercings, and had a full-time job. A week before the wedding, she found out that Jarrett was a high school dropout. Kelsi knew this, but hadn't told her parents.

Kelsi had rented an apartment in Odessa in August 2006—against her parents' wishes—and Jarrett had quickly moved in. The engagement was announced at Christmas, 2006.
"Why don't you wait awhile?" Debra had asked her daughter.
Kelsi didn't reply. She was strangely subdued during the wedding preparations—so unlike what Debra remembered about her own wedding. In fact, Jarrett was making all the plans, and Kelsi wasn't saying a word.
Stitches in his fist
Debra and Lance Miller lived more than an hour away from Odessa, so the next time Debra saw the newlyweds was mid-summer, 2007. Jarrett had stitches in his fist—he said he was at a party, some guy slapped him on the back a little too hard, and he fell through a plate glass window. In mid-September 2007, Kelsi and Jarrett attended a birthday celebration for Kelsi's father, Lance. Jarrett announced that he was fired from his job for hitting a customer.
A few days later, Debra learned from Kelsi that the Odessa police had been called to the home of Jarrett's parents because of a family disturbance, but her daughter did not elaborate.
No holiday visit
Jarrett called the Miller home around the end of October. He told Debra that he and Kelsi were going to marriage counseling, and they did not want to spend the upcoming holidays with the Millers. Here's how Debra remembers the conversation:
"Why don't you want to see us for the holidays?" Debra asked.
"Kelsi doesn't like to be around you because you make her feel like she is never going to accomplish anything," Jarrett answered.
"I KNOW Kelsi better than that. She knows that we are very proud of her accomplishments. She knows what it takes to be successful. I don't know what you're talking about."
"Well, whenever ya'll come down here to Odessa, you never act like you're happy to be here."
"Jarrett, I don't know what you are talking about there either. But if ya'll don't want to spend the holidays with us, then that's okay, do what you have to do."
Car title loan
Kelsi started asking her parents about the savings account that they'd established for her when she was born. Although much of the money had been spent on college, $3,500 remained. Withdrawals required two signatures—from Kelsi and her father. Debra suspected that Jarrett was urging Kelsi to get the money, so she and her husband refused to release it.
They did, however, give Kelsi the title to her car—a 2004 orange Mustang, which they bought for their daughter when she graduated from high school. As soon as they did this, Jarrett took Kelsi to get a title loan for $3,500, putting up her car, valued at $18,000, as collateral. When the Millers asked Kelsi what the money was for, they never got a straight answer, except that on November 17, 2007, she and Jarrett took a spur-of-the-moment trip to Del Rio, Texas, on the Mexican border.
During that trip, Kelsi woke up in their Del Rio motel room at 2 a.m.—Jarrett was gone. At 6 a.m., her husband came in, crying. He told Kelsi that he'd gone across the border into Mexico for a beer, and was robbed of $1,000.
"And you believed him?" Debra asked, frustrated with her daughter.
Jarrett Weaver assaults Kelsi
The couple was at the Sedona Bar and Grill in Midland, Texas on December 21, 2007, socializing with friends. Kelsi and Jarrett started arguing and left. In the parking lot, Jarrett went into a rage, grabbed Kelsi by her blond hair and dragged her across the asphalt and into the car—Kelsi's Mustang.
Jarrett got behind the wheel and raced along Highway 191 towards Odessa at speeds of up to 120 miles per hour, threatening to crash the car and kill them both. Kelsi tried to call 911, but Jarrett grabbed her cell phone and snapped it in half. He then punched her in the face with his fist five or six times, and punched the dashboard of the car. This was witnessed by a police officer, who followed the Mustang and radioed for backup.
Odessa police approached the car with emergency lights flashing; Jarrett pulled into a mall parking lot and stopped. According to the police report, "Kelsi had redness and swelling on her left eye and blood coming from her mouth." Jarrett was arrested, charged with assault family violence, and taken to jail. The state of Texas filed charges against him, and a judge issued a restraining order. Jarrett was prohibited from contacting Kelsi for 31 days.
Kelsi Miller moves out
Kelsi did not want to tell her parents that Jarrett had assaulted her. When he was arrested, she was too shaken to drive, so she called his parents, not hers, to pick her up from the mall parking lot. Kelsi only called Debra the next morning when Jarrett's mother urged her to.
"Why didn't you call me?" Debra demanded.
"Because you'd freak out," Kelsi replied.
Not knowing how long Jarrett would be in jail, Kelsi's family helped her move out of the apartment she shared with him immediately. They tossed clothes into black trash bags and piled her furniture into a truck. That's when her father and brother discovered holes in the walls, broken mirrors in the bathroom and doors pulled off the hinges. They also found a box of syringes. Kelsi admitted that Jarrett was using drugs—steroids, Xanax and marijuana—along with drinking alcohol.
Kelsi had to break the lease on the apartment, which was in her name. Because Jarrett had bad credit, all the bills were also in her name, and many weren't paid.
Jarrett spent about four days in jail. When he got out, he called Kelsi's brother to ask if he could spend Christmas with his wife and her family. The answer was, "NO!!!"
Jarrett's letter to Kelsi
Kelsi,

Hey baby, I can't talk to you right now so I thought I would just write you letters and when I finally get to see you again I could give them to you so you could see how I have felt through this disaster! We'll both have a chance to regroup and find ourselves and figure out what God wants of our lives. Today is Thursday 12-27-07, almost one week since I've seen you. Yesterday I met w/ Jason and he made me feel a little comfort, but the pain right now is so strong I don't really have an appetite and it's hard to focus on anything else but you. On the other hand the guys at my work and especially my boss have really been a blessing. My boss was very comforting and understanding about my problem w/alcohol because he is a recovering alcoholic. He told me he would be there for anything of need to me and wants to take me to AA meetings w/ him. Tonight will be my first one and I am going with an open heart and mind. My passion about not drinking is very strong and I will do anything to stick to my words! Today on the way to work I heard a song on the radio/Christian radio/by a new band named Red. I came home from lunch and Greg found it for me on the computer. The name of the song is Breathe Your Life Into Me, and I can't wait to share it w/ you. I miss you so much and am heartbroken about what happened. I will do everything I can to remove the scar from your heart but I know that only God can do that. Jason told me a funny story about college and shared a very strong passage that really spoke to my heart. Romans ch.13: 11-12. I see now that my eyes are open and I know what I have to do w/ my life. I am going to dedicate my life to God and change my whole mindset about the world. I hope God can work through me and help me be a blessing to the lives of others. Maybe I can direct others to live strong and never be where I am now in my life, w/ a shattered heart and so much pain. I know if I keep my head up and a positive attitude God will work wonders in and through my life! Well, my meeting is in about 30 min but I will continue to write you and I hope that I will become the man you always wanted me to be. I love you so much Kelsi and I hope your heart is being mended. You are so special and beautiful, you have so many wonderful things about you. I will keep you in my heart for the rest of my life. Hope you have a good day I'll talk to you later.

Love, Jarrett

P.S. I want my best friend back! And I miss Jazmine!