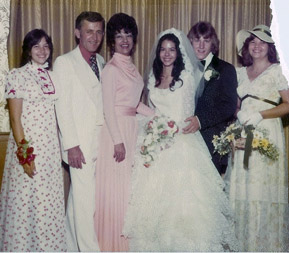 John R. Sperry threatened his wife, Joyce Jaccodie and then made good on it
By Stacey Jaccodie
As a child, I didn't recognize the signs but they were all there. Sadly, we dubbed my mother's ex-husband's antics: Stupid Sperry tricks. My mother laughed off and even poked at the lion at times, never understanding the danger that lurked beneath the mask.
My mother married a sociopath. She didn't know it. No one knew it. It took me years into my adulthood to finally unravel his background and investigate his psyche to learn it. I am not a doctor — I am the daughter of a victim of a sociopath who knows far more today than I'd ever wished for.
In 1969, Joyce Jaccodie was a 33-year-old widow with three young daughters to raise. She later met and married a decorated war hero, Naval Lt. John R. Sperry, recipient of the Silver Star and Bronze Medal for his heroics as a fighter pilot during World War II and Korea. Almost 30 years later, I unraveled his past and learned he was an imposter. What he was was a two-bit conman with a shady and criminal past, impersonating a Naval Officer and collecting hundreds of thousands of dollars in military benefits over the years. He was a textbook example of a sociopath. His real name was John Gorbich; he served in the navy for less than three years as an electrician first mate. He spent the rest of his time in a hospital for mental problems, where I believe is how he got his hands on the paperwork to turn himself into John Sperry.
He moved into our lives and our world with ease, seemingly showing up with no background, family or friends of past. He was a mystery man introduced to my mother by a friend of a friend who met him at a racetrack and thought he was some kind of high roller. He wined her, dined her, took her on lavish vacations and showed her a world that she'd only heard about but never lived. He moved slowly with me, the daughter of a father who died way too young and was grieving. He showered me with gifts and my young broken heart slowly began to mend under his attention. This stranger was quickly accepted into our family and into our home with little questioning. It was to me blissful for a moment. But only for a moment.
The chameleon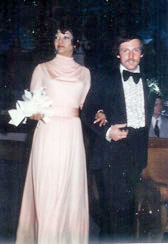 In 1974 there were no stalking laws or domestic violence laws to protect my mother. Frankly, even if there were, no one believed her. John Sperry was well liked and revered in his new community. He was a chameleon, easily adapting to any situation and fitting in. He was quite charismatic and endearing. He was your friend, your neighbor, your confidante, your lover. Few believed my mother's complaints about this honest upstanding man. I actually watched as the police chief of our small town physically push Sperry back into my mother's house, telling her he's a good man and her husband. He belongs at home. "Work it out and stop bothering us." He was an accomplished pathological liar, spinning gold out of horse manure. As I look back today, I can't believe we didn't see it clearly.
But a sociopath can't keep up the charade forever. Small cracks began to appear. Stories he told didn't add up. Strange and scary men would come to the house looking for him at odd hours. A late-night phone call claiming his son was run over by a garbage truck; he had to catch a flight out in the middle of the night. Checks were missing from my mother's checkbook, found after her account was overdrawn. Repossessed cars. Jewelry and clothing that had to be returned due to bad checks written for their purchase. Last-minute family vacations that had us scrambling to get packed and out with urgency. All came with a plausible excuse. Everything, when he explained it, was believable.