1,200 phone calls, 45 criminal charges, 21-year sentence: Michael J. Bonert's obsessive stalking of his former girlfriend, Vicki Kuper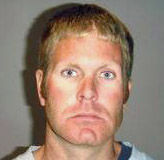 Michael J. Bonert, 33, is from Delaware County, Iowa, but for awhile he was a resident of the North Central Correctional Facility in Rockwell City, Iowa. He was sentenced to 21 years behind bars for relentlessly stalking his former girlfriend, Vicki Kuper, also of Delaware County, Iowa.
Bonert was charged with 45 offenses, including 24 violations of Vicki's no-contact order. And those were just the incidents that resulted in criminal charges there were many more.
Since being incarcerated on August 30, 2010, Bonert has played the part of the model prisoner. One prison psychologist said his behavior was exemplary. Another described him as courteous and pleasant.
The Iowa parole board will interview Bonert on March 19, 2014 to consider his parole, even though he has served less than four years of his sentence.
If Bonert is released, Vicki Kuper believes that he will kill her.
At first, wonderful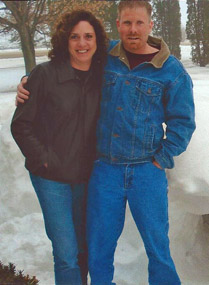 When she started dating Bonert in 2006, Vicki Kuper, then called Vicki Lahr, was warned that he was trouble, and that she shouldn't believe what he said. Vicki preferred to make her own decisions about people. She was actually offended when people said negative things about her boyfriend, because she witnessed none of the behavior they described.
"He could read everything I needed in a relationship, and he provided all of it," Vicki said. "He was wonderful and easy to get along with."
But after about a year, Bonert began to change. Even though they didn't live together, he would not leave her house. He told Vicki how to parent her children, which she considered to be a red flag.
Bonert slowly isolated Vicki from her friends. When Vicki objected, telling Bonert that she could be friends with whomever she wanted, he became even more jealous and insecure. Bonert accused Vicki of sleeping with everyone, including her cousin.
Bonert always wanted to know exactly what Vicki was doing, although he was nonchalant about how he got the information. He casually asked, "What's on your plan for today?"
"I had to give him my itinerary for every day," Vicki said. "If I stopped at the grocery store, there would be a big fight over me not following the exact itinerary."
Loans and repayment
During their time together, Vicki covered some of Bonert's expenses, which he promised to repay. Included in the money she loaned him:
$3,413 to repair his jet ski, because Bonert said he forgot his checkbook.
$760 to pay for repairs and storage of his camper. Bonert repaid $400.
$743 so Bonert could make two payments on his camper loan.
$427 to cover Bonert's cell phone for eight months, of which he reimbursed her $184.
Bonert also owed Vicki approximately $950 because he drove her Ford Expedition into a frozen snowdrift and damaged the bumper.
In 2008, Vicki bought a parcel of land from Bonert's grandfather so she could build her own home. Vicki told Bonert that she would forgive the money he owed her totaling $6,000 in exchange for work on the house. Although they did not execute a contract, Vicki and Bonert agreed that he would strip the topsoil, do the "dirt work," and haul rock for the driveway. Vicki rented equipment and bought materials, and Bonert started the work.
Signs of abuse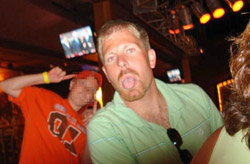 But as construction began on Vicki's home, her relationship with Bonert deteriorated.
Vicki knew the signs of an abusive relationship, having experienced one earlier in her life, and recognized that her involvement with Bonert was heading in that direction. She did not want her kids to witness or experience violence, and began thinking about ending the relationship.
Vicki's son played on a grade school baseball team. Bonert went to a game and picked a fight with Vicki's ex-husband, in front of the children. Vicki was furious, and told Bonert he could not attend any more baseball games.
Bonert stayed away from baseball for a couple of weeks. But on June 21, 2008, as Vicki got in her vehicle to go to her son's baseball tournament, Bonert got in with her, and refused to get out. Not wanting Bonert at the game, Vicki never went.
Her son's team won, which meant he played another game that night. Vicki told Bonert that she was going, and he was not.
When Vicki left, Bonert followed her. So instead of going to the game, Vicki drove to the sheriff's office. She wanted the deputies to tell Bonert to leave her alone.
Bonert walked into the sheriff's office and told the deputies that Vicki was suicidal.
"They took him outside and told him to leave peacefully," Vicki said. "I left the sheriff and got a block away from there and he was behind me again. So I did a big circle around the block, and he kept going when I pulled in in front of the sheriff's office."
Bonert left Vicki alone temporarily.
Broke open the door
At 8 a.m. the next morning, Bonert showed up at Vicki's house. He pounded on the front door, demanding that she let him in. She refused.
Then Bonert went around to the back door and pounded again. Vicki still refused to let him in.
Bonert went back to the front door, shoved it, and it popped open.
Vicki had her phone in her hand, ready to call 911.
Bonert came in, yelling and screaming. He hung up her phone and threw Vicki on her bed.
The sheriff showed up, saw the hand marks and scratches on Vicki, and arrested Bonert. He was charged with stalking, trespassing, domestic abuse assault, burglary and obstruction of emergency communications.