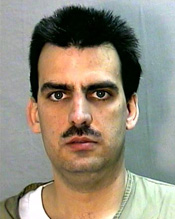 Patrick Giblin trolls phone dating lines, taking money from 132 women
Patrick M. Giblin of Atlantic City, New Jersey, found a way to get money to blow on casino gambling that did not require working for a living.
Giblin made the acquaintance of women all over the United States through telephone dating services, convincing them of his romantic intentions. To enhance his credibility, Giblin claimed he was a law enforcement officer, his father was a judge and his brother was a prosecutor. Giblin then told the women he was relocating to their areas. While supposedly en route, he fabricated an emergency, said he didn't have access to his cash, and asked for a loan. He promised to pay them back as soon as he arrived.
When the women sent him money via Western Union, Giblin went directly to a casino.
Giblin ran the scam from 2000 until his arrest on March 3, 2005. He defrauded 132 women out of a total of $320,241—and those are just the cases that the authorities know about.
Giblin pleaded guilty to 10 counts of wire fraud on May 12, 2006. Almost a year later, on April 17, 2007 , he was sentenced to 115 months in federal prison. When he gets out of prison, Giblin will be placed on supervised release for another three years.
Restitution
Giblin was also ordered to pay $182,444 in restitution to some of his victims:
| | | | |
| --- | --- | --- | --- |
| Victim | Location | Amount | |
| T.A. | New York | $18,000 | |
| A.A. | New York | $800 | |
| C.C. | Texas | $18,000 | |
| S.F | Pennsylvania | $4,500 | |
| J.H. | Missouri | $1,095 | |
| R.K. | Ohio | $100 | |
| P.K. | New York | $500 | |
| B.L. | Colorado | $2,638 | |
| C.L. | Missouri | $1,300 | |
| L.M. | Colorado | $2,000 | |
| C.N. | Massachusetts | $300 | |
| P.O. | New York | $1,000 | |
| E.P. | North Carolina | $450 | |
| L.R. | Utah | $17,902 | |
| D.R. | Texas | $279 | |
| S.S. | Pennsylvania | $4,567 | |
| R.S. | Minnesota | $26,500 | |
| J.T. | Connecticut | $913 | |
| C.V. | Florida | $600 | |
| J.W. | New York | $50,000 | |
| M.W. | North Carolina | $3,000 | |
| S.W. | Indiana | $500 | |
| S.H. | Texas | $3,500 | |
| S.W. | North Carolina | $20,000 | |
| N.Z. | Minnesota | $4,000 | |
Giblin's sentence was imposed by U.S. District Judge Robert B. Kugler, who ruled that the con artist had preyed on "vulnerable victims." Two of his victims told the court about his tactics.
Promises romance
When S.W., of North Carolina, started talking to Giblin in 2001, she had been going through difficult times. She separated from her husband. Both of her parents had gone into a nursing home and eventually died.
S.W. is legally blind, overweight and diabetic—all of which she told Giblin. "He said that weight doesn't matter. It's what's inside that counts," S.W. recounted.
"He promised me romance and led me to believe he was going to move to North Carolina," she testified in court. "He was a smooth, fast-talking Northerner."
Eventually Giblin started asking S.W. for loans. "He called me for money, making it seem like it was a matter of life and death," she testified. To continue to accommodate him after her accessible cash was gone, S.W. borrowed money from an aunt and pawned her laptop computer and jewelry.
Then her brother in Georgia had a heart attack. Giblin told S.W. that if she would send him money for travel, he would accompany her to Georgia to visit her brother. S.W. sent the money. Giblin never showed up.
Giblin took a total of $20,000 from S.W. She was forced to sell her collectibles and file Chapter 7 bankruptcy.
Threatens father
C.C. of Texas testified that she lost her 23-year-old son, her only child, when he was killed in a head-on car crash in 2002. In June, 2003, C.C. was laid off from her job. In August, 2003, her father was diagnosed with terminal cancer and given six months to live.
By October of 2003, C.C. told the court, she wanted companionship. That's when she called the telephone personals and met Giblin.
As they talked, C.C. told Giblin about her tragedies and that she had $20,000 from her son's life insurance policy. Giblin told C.C. that he was moving to Texas for his new job.
Giblin called C.C., supposedly from the road as he was driving to Texas, and told her the tires on his Jimmy SUV had blown out. He asked her to loan him money to buy new tires, and promised to pay her back as soon as he got to town. Then he called her and claimed he had been arrested and needed bail money.
Giblin called C.C. for money a couple of times a day. When she reached the $400 limit for an ATM withdrawal, Giblin told her to buy a television at Wal-Mart using her debit card, go to another Wal-Mart and return it, and then send him the cash.
In less than two weeks, C.C.'s money was gone, and she no longer heard from Giblin.
Then, three months later, Giblin called again, asking for money. When C.C. said she didn't have any, Giblin told her to pawn her car. And, C.C. testified, Giblin threatened to "knock off your dad" if she didn't come up with the money.
"I believed he was capable of it," C.C. said in court. "He was hot tempered. He was yelling, cursing and slamming down the phone. I feared for my father's safety."
Giblin took $18,000 from C.C., leaving her destitute. C.C. had to borrow money from her sister to pay her rent. She could only afford to eat beans. At times, she went to bed hungry.
C.C. has begun to recover financially, but not emotionally. "There will never be another man in my life," she told the court. "My first husband died. My second one beat me up. Patrick took everything from me, including my self-esteem."