Rabbi Fred Neulander convicted of murder
His son calls him a sociopath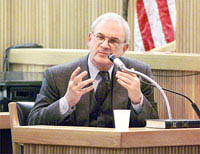 On the evening of Tuesday, November 1, 1994, Carol Neulander, 52, opened the door of her home in Cherry Hill, New Jersey, and admitted two men who claimed to know her husband. As she led them into the house, one of the men hit her from behind with a pipe, smashing her skull. The woman crumbled to her knees, asking, "Why? Why?" The other man continued to bash her on the head, making sure she was dead.
At 9:20 that night, Carol Neulander's husband, Rabbi Fred Neulander, arrived home from his synagogue to find his wife lying in a pool of blood. During his frantic call to 9-1-1, the rabbi repeatedly asked the dispatcher what he should do. "Should I touch her?" he asked.
When the police and emergency medical technicians arrived, including the Neulanders' son, Matthew, Fred Neulander was outside the house. He had not tried to comfort his wife of nearly 29 years. He had not said the Vidouee prayer, the Jewish last rites, over her. Despite the fact that blood was all over his living room, not a drop was on his clothes. He showed absolutely no emotion.
For many, the rabbi's lack of emotion was the first clue that something was wrong.
The rabbi's women
Rabbi Fred Neulander founded M'kor Shalom, a Reform synagogue in affluent Cherry Hill, in 1974. Twenty years later, more than 900 families belonged. It was the largest Jewish temple in South Jersey. Charming and charismatic, Neulander won people over by the force of his personality.
The murder of the rabbi's wife came as a shock to the community and the congregation. Still, there had been persistent rumors of the rabbi's interest in other women. He was known for lavishing special attention on attractive women during Friday services at the temple. By February, 1995, police investigators told temple officials of three women in the congregation with whom the rabbi had affairs, and confirmed that he was a suspect in his wife's murder. Neulander resigned his post.
The following summer, Elaine Soncini, a Philadephia radio personality, admitted having a steamy, two-year affair with the rabbi. Soncini had met Neulander in December, 1992, the night her husband died—the rabbi was summoned to provide grief counseling. Ten days later the rabbi called, suggesting they have lunch. Within a month, they were intimate. By the summer of 1994, Soncini was tired of hiding their relationship and threatened to end it if Neulander didn't leave his wife. Neulander assured her that they would be together by her birthday in December.
On November 2, 1994, the morning after his wife's murder, Neulander called Soncini, saying he didn't want to lose her. A few weeks later, he said, "I told you to trust me. When God closes a door, he opens a window."
Soncini continued to see the rabbi for a few months—until police told her about the other two women with whom the rabbi was also having affairs.
Killers confess
Rabbi Fred Neulander continued to be a prime suspect in his wife's death. In December, 1994, he had failed a lie detector test. Finally, more than five years after the murder, a grand jury indicted Neulander. Still, the case was mostly circumstantial.
But in May, 2000, two men, Leonard Jenoff and Paul M. Daniels, confessed to the crime. They said that Neulander had hired them to kill his wife. They both pleaded guilty to aggravated manslaughter.
Jenoff said the rabbi promised him $30,000 if he killed his wife. For six months, they discussed several scenarios for the murder, and decided to make it look like a home robbery gone bad. The rabbi said the killing had to be done on a Tuesday night, when his son worked as an EMT and Carol would be home alone.
The hit was originally scheduled for Tuesday, October 25. Jenoff went to the house, but lost his nerve when he could not see the woman's purse, which he was supposed to take. At a meeting later that night in a parking lot, the rabbi was enraged. "'You kill her or I'll kill you,'" Jenoff said the rabbi told him.
"I looked in his eyes, and I believed him," Jenoff said.