Tom Guida, aka Tom Gatto – fake psychologist, fake Special Forces, fake brain cancer patient – gets away with bigamy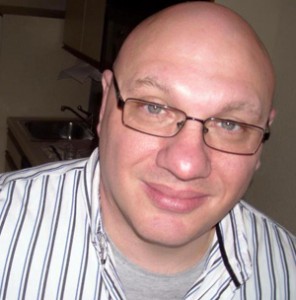 By Donna Andersen
Thomas A. Guida, 52, of Toms River, New Jersey, arrived in court on May 29, 2015 to face a charge of bigamy filed by one of his wives.
Mrs. Guida signed a complaint against him on February 18, 2015, after receiving Facebook messages about another woman he is married to, a woman he was engaged to, and a woman he was cheating with.
Each woman believed she was in an exclusive relationship with Tom Guida, planning a future with a true American hero. They were all wrong.
Tom told all the women that he was a Ph.D. psychotherapist who specialized in traumatic stress and bereavement counseling, going into dangerous situations as a first responder. In reality, he is not licensed for any profession in New Jersey or New York.
Tom displays a diploma showing that he earned a master's degree in psychology counseling from New York University. It's a fake NYU has no record of him. His "Doctorate of Philosophy in Forensic Psychology" comes from Trinity Southern University a well-known diploma mill.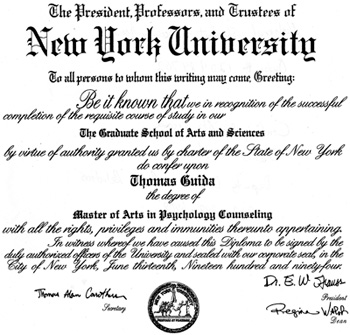 Tom claimed to be a lieutenant in the United States Marine Corps, specializing in interrogation, who served multiple special ops tours in Iraq and Afghanistan. The military has no record of him.
Tom also claimed to be part of the FBI's Critical Incident Response Group special agents with expertise in crisis negotiations, hostage rescue, bomb disposal, surveillance and aviation. The FBI says Tom Guida doesn't work for them, and never has.
Shortly after Tom met the future Mrs. Guida in 2005, he complained of headaches and told her he had been diagnosed with a brain tumor. He gave the same story to two more women, and to his co-workers at a residential psychiatric facility, who took up a collection for him.
With treatment, people who have cancerous brain tumors usually survive one to two years. Ten years after announcing his illness, Tom Guida, still very much alive, walked unassisted into Woodbridge, New Jersey, Municipal Court to be confronted by his wife.
Mrs. Guida was heartbroken when she learned that everything her husband told her was a lie. Now, she says, "I just want to help people stay away from him."
Mr. and Mrs. Tom Guida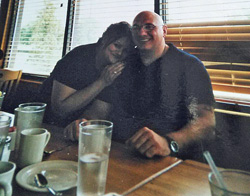 When the future Mrs. Guida met Tom online in 2005, he struck her as sincere, nice, and not pushy. They soon met in person at a restaurant in Freehold, New Jersey.
"The first date with him was the most romantic I was ever on in my life," she says. "He was really nice, we talked I was already hooked."
Soon, however, Tom told the future Mrs. Guida that he was going to die. "He thought it wasn't fair for me to be with him because he was sick," she says.
But she was already in love with this big, strong man who treated her like a queen, and was willing to support him until the end.
"The only way you can be with me is if I take care of all the medical, and you're not involved in it," Tom said, according to her.
The future Mrs. Guida agreed to his dying wish, and was soon seeing him three times a week, and exchanging emails and phone calls every day.
After they dated for a few months, she says, Tom told her that he was moving to Raleigh, North Carolina he had to be there for his Special Ops work, and he'd get treatment for his brain cancer.
She wanted to join him, but her friends and family opposed the move. "They were thinking it was nuts that I would go that far," she says. "They thought he wasn't what he said he was."
The future Mrs. Guida Googled her beau, and nothing came up. "I wanted to be happy," she says. "I kept believing and found no proof against him."
Living a love story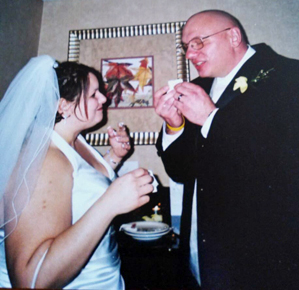 So she quit her corporate job, cashed in her $10,000 in 401(k) savings, sent her kids to stay with their father for the summer, and over the July 4th holiday, drove with all the belongings that she could fit into her car to North Carolina. She moved into an extended-stay hotel with Tom Guida.
"I felt like I was living a love story," she says. "It was like a honeymoon for a month.
"Everything seemed normal except he would leave, and I had no idea where he was going."
Then Tom told her that he was getting sicker. They decided that if he were going to die, he should be around his family in Staten Island, New York.
Tom, the future Mrs. Guida, and her two children moved into an extended-stay hotel in nearby New Brunswick, New Jersey, she says. But now she was paying for the hotel, dinners and lunches, and soon her money was gone.
Tom then told her they should get married. "I was happy he decided he wanted to do that before he died," she says.
They married at the Residence Inn in Woodbridge, New Jersey, which was also where they lived, on March 25, 2006.
"My family knew he was dying," Mrs. Guida says. "I wanted people to know why we were getting married. It was very sentimental. I was the happiest I'd ever been that day."
Tom and Mrs. Guida didn't know how they were going to pay for the wedding. They hoped the wedding gifts would cover the cost but they didn't.
Secret military missions
In fact, money was a problem throughout their marriage. Mrs. Guida eventually found work. But Tom, she said, was supposedly getting cancer treatments or going on secret military missions, and the government was screwing up his pay.
"I was with him for two and a half years," Mrs. Guida says. "I had no idea what he did."
Finally, Tom got a job as a supervising psychologist at the Beacon of Hope House on Staten Island, a transitional housing facility for psychiatric patients.
"It was nice," Mrs. Guida says. "Finally I could tell people where my husband works."
Still, she suspected that Tom was lying to her. When she met his family, she learned that her husband was born in 1962 not 1969, like he told her.
And she asked Tom why his medication bottles had no names on them. Mrs. Guida says Tom answered, "In case someone comes after me from the military, they can't know the pills are for me."
Doubting the brain cancer
Mrs. Guida finally went to a counselor about her doubts. The counselor didn't think Tom was a psychologist. To find out if her husband was really sick, the counselor suggested that she accompany him to his cancer treatment.
"He let me go one time with him to the doctor," Mrs. Guida says. "I took him to the hospital. He had me stay in the waiting room while they were admitting him. He didn't want me to hear anything he told the doctor."
Tom reported that his CAT scan was clear, and the doctors gave him pain pills for his headache.
"You didn't tell them about the brain tumor?" Mrs. Guida asked.
"I didn't want them to get all wrapped up with it," Tom replied, according to her.
At that point, Mrs. Guida thought something was really wrong. The next day, she called her brother, who was the director of a hospital x-ray department.
"You're his wife," her brother said. "You can get access to his records."
Tom agreed to release his records to her. But when Mrs. Guida called the Robert Wood Johnson cancer hospital in New Brunswick, they had no record of Thomas Guida.
Her husband had lied about his terminal brain cancer.
"I was like, shocked," Mrs. Guida says. "I kind of knew, but I was still in shock. I didn't want it to be true."
What else did Guida lie about?
Mrs. Guida told her husband that he had one day to come clean.
Instead of explaining why he lied about the brain cancer, and what else he lied about, he went to work. When Tom got home, all of his belongings were packed.
"He cried when he carried his stuff out," Mrs. Guida says. "But I was done. I couldn't deal with it any more. And I felt so relieved. There were things I couldn't explain things he would make me say and I didn't have to do that anymore."
"I felt really stupid," Mrs. Guida continues. "I was so thankful for my family and friends. They were there for me, and forgave me.
"It taught me a lot of things. We had good times. Valentines Day and Christmas were over the top. He taught me a lot about respecting myself. He would say, "˜You earned it, honey. You didn't understand your potential.'"
The experience left Mrs. Guida "more hurt than angry," she says.
They broke up in March 2009. Then Mrs. Guida heard from the Internal Revenue Service because Tom hadn't filed taxes for years, the government confiscated her tax refund. After that, she stopped communicating with her husband.
Tom Guida, however, was communicating just fine with other women.
(To continue, click 2 below.)