Joyce Alexander protests her son's parole
Parole protest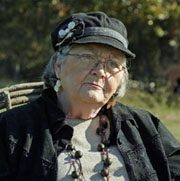 Joyce turned her evidence of the plot over to the Arkansas sheriff and to Texas prison officials. No law enforcement agency ever took any action against Hamilton or Patrick for the alleged conspiracy.
Joyce was afraid that if Patrick ever got out of prison, he'd finish the job that he started.
Her son was up for parole in 2010. Joyce retained a Texas attorney not to get her Patrick out of prison, but to keep him in.
The attorney submitted a protest of the parole, including a letter from Joyce to the parole board. She detailed the whole plot, including what she believed was her son's motive:
"Since I had finally realized that my son Patrick was not only not repentant about his crimes, but actually was proud of the killing of that young woman I decided to sever contact with him, and to cut him out of any financial gain at my death. Patrick knew that if my elderly mother predeceased me, he would have no share in any family inheritance. However, if I were to predecease her, then the trust would give him a life estate in the farm and 50% of the income from the natural gas royalties. This was the apparent motive for him to send Kenneth Hamilton to our farm."
The lawyer attached a thick stack of documents the police report of Jessica Witt's murder, Hamilton's rap sheet, copies of the correspondence between Hamilton and Patrick, and details of Patrick's inheritance, should he get his hands on it.
The lawyer also referred to Patrick's numerous infractions of prison rules, and included Patrick's letters in which he gloated about outsmarting the guards.
Patrick was denied parole at least for a few years.
Second parole protest
In 2013, Patrick again came up for parole. For three years, her son had stayed out of trouble in prison, so Joyce worried that the parole board would believe he has reformed.
Joyce believes her son will never change, and wants the parole board to understand that. In a second parole protest, she wrote:
"There is no way to predict what someone will do in the future, but the best indicators of future behavior is past behavior, and my son has shown by a lifetime of crime and rule breaking that he has no intention of living a law abiding life.

"He has been given chance after chance to reform, to go straight, to attend any college he wanted to go to, and he dropped out of high school to live a life of robbery, violence and murder.

"I am terrified of Patrick, and my other sons are terrified of him, because we have finally realized that he is truly a psychopath (see the medical records from the prison) and with the unjustified grudges he bears us, we will never be truly safe, even with him in prison, but we will be in acute danger if he is released."
If the parole board doesn't listen to Joyce and lets Patrick Alexander out of prison, Joyce plans to protest on the steps of the Texas capitol. With her, she says, will be the family of Jessica Witt, the young girl her son murdered.