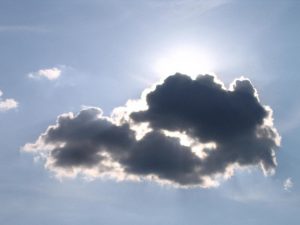 For everyone here at Lovefraud, there came a time when we could no longer continue in denial. We were forced to admit that someone we trusted had betrayed us. We felt devastation, anger, humiliation, grief and every other negative emotion on a therapy checklist.
We also berated ourselves for our naiveté, kicked ourselves for our gullibility, and castigated ourselves for trusting someone who shouldn't have been trusted. Overwhelmed by pain, we may have vowed that we would never trust again.
Hold on. As human beings, we need to trust. Human society is built on trust. The key is to determine who is trustworthy, and who is not.
Trust and human society
I wrote previously about Paul Zak's book, The Moral Molecule, in which he identified oxytocin, a neurotransmitter, as the key to human moral behavior. Read:
Oxytocin, trust and why we fall for psychopaths
The foundation of Zak's theory is that human beings are supposed to trust.  We are social animals. We were able to survive for millennia because we lived in groups, we cooperated and we helped each other. Trust is the glue that holds us together.
Zak started out as an economist, and then went on to study moral behavior. Here's a quote from his book that proves the importance of trust:
The level of trust in a society is the single most powerful determinant of whether that society prospers or remains mired in poverty. Being able to enforce contracts, being able to rely on others to deliver what they promise and not cheat or steal, is a more powerful factor in a country's economic development than education, access to resources—anything.
Trusting is normal. Trusting is healthy. So how can we make sure we trust appropriately?
Oxytocin and trust
Researchers have long known that oxytocin is released in the brain and bloodstream when we experience intimacy, especially during sex. We also are flooded with oxytocin during emotional intimacy, such as shared feelings, and physical touching, such as a hug.
But Zak found that oxytocin, which he calls the "Moral Molecule," is responsive to other interactions as well:
All you have to do to trigger this Moral Molecule is give someone a sign of trust. When one person extends himself to another in a trusting way, the person being trusted experiences a surge in oxytocin that makes her less likely to hold back, and less likely to cheat. Which is another way of saying that the feeling of being trusted makes a person more trustworthy.
Zak says that oxytocin inspires caring and generous behavior, at least in most people. It doesn't work in psychopaths (I explained why in my previous article). But oxytocin doesn't turn us all into starry-eyed do-gooders who cooperate with anybody. Rather, this neurotransmitter enables us to recognize and respond to the precise nature of human interactions. He says:
The Moral Molecule works like a gyroscope, helping us maintain our balance between behavior based on trust, and behavior based on wariness and distrust. In this way, oxytocin helps us navigate between the social benefits of openness, which are considerable, and the reasonable caution we need to avoid being taken for a ride.
Interfering with oxytocin
So how did we get taken for a ride? Why did we fall for someone who turned out to have no morals at all? Perhaps we weren't letting oxytocin do its job.
Zak doesn't spend a lot of time talking about psychopaths in his book. But he does relate the story of a devoutly religious prison guard who took pity on a convicted rapist. The prisoner said he'd found Jesus, and when he was paroled, the guard took him into his home. The prisoner raped and murdered the guard's daughter.
Here's the point, according to Zak:
Distorted ideas from religion, just like distorted ideas from economics, or eugenics, can impair the ability of the Moral Molecule to do its job, which is not so much to make us "good" as to keep us in tune with our immediate environment in the most adaptive way.
At some point, the prison guard may have felt misgivings about bringing the convicted rapist into his home. But he was so invested in his religious convictions, and the promise of redemption, that he may have disregarded warnings or fear.
Intuition
In his book called The Gift of Fear, author Gavin DeBecker writes that the most powerful warning system we have is intuition. He says intuition evolved over millennia specifically to keep us safe from predators.
Usually, we ignore it.
To research my book, Red Flags of Love Fraud — 10 signs you're dating a sociopath, I invited Lovefraud readers to complete an Internet survey. One of my questions was, "In the beginning of the involvement, did you have a gut feeling or intuition that something wasn't right about the person or the relationship?" A whopping 71 percent of respondents answered "yes."
Why? Why did so many people ignore their intuition? Here were some reasons:
18 percent — Doubted themselves
12 percent — Gave the benefit of the doubt
11 percent — Questioned the sociopath, but accepted the answers
9 percent — Wanted to believe the sociopath
So almost three-quarters of the survey respondents instinctively knew there was something wrong with the person, but stayed anyway. We talked ourselves out of what our intuition told us.
Trusting ourselves
We have the tools to know who is trustworthy and who is not. Whether the source is oxytocin or intuition — or perhaps they're the same thing — we have internal knowing that can protect us. The key is to pay attention.
In order to trust others, we first must trust ourselves.
It may take us some time to rebuild, or develop, our self-trust. We need to recover from the sociopath. (Many articles on Lovefraud can help you with that.) We may need to release some beliefs, such as "there's good in everyone," or "anyone can be saved," that block our perception of warning signs.
Most people in the world can be trusted, and now we know there are exceptions. When we trust our own perceptions and intuition, we can accurately discern who deserves our trust, and who does not.