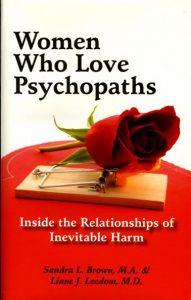 As a victim of love fraud, I have two reactions to Valentine's Day. First, I hate the thought of all those sociopaths out there male and female, who are using this day to lock in their next victims. Early in relationships, sociopaths present themselves as great partners. They certainly don't pass up the chance to pour on the charm on a day like Valentine's Day. Furthermore, since they can be very focused on sex, Valentine's Day is an opportunity for them to score. My vision of Valentine sociopaths includes those who are simultaneously wooing more than one victim. Perhaps we should consider whether Valentine's Day should also be named "Love Fraud Awareness Day."
My second reaction to Valentine's Day is that I am reminded of all those who have loved sociopaths only to be harmed in every sphere of their lives. Cupid's Arrow can be deadly if the result is involvement with a sociopath.
These two reactions bring me to an announcement. That is that Sandra L. Brown, M.A. and I have completed our book Women Who Love Psychopaths. I apologize for the fact that we do not yet have a book for men who have been involved with psychopathic women, but we had to start somewhere.
The book summarizes the results of a survey we conducted on nearly 100 women who have been involved with sociopaths/psychopaths/pathological narcissists. As part of this survey, women completed check lists of symptoms of sociopathy/psychopathy on their partners and we compared the results of these checklists to their narrative stories.
The most important message I have for you is that if you think your man is a sociopath you are very likely to be correct. You do not have to wait for a formal diagnosis before deciding to get out of the relationship and avoid further harm. There was very good agreement between check off list symptoms and the actual behaviors reported by the women in their narrative stories.
Also in honor of Valentine's Day I will say that if you are an outgoing extraverted woman who greatly values her relationships, you are a target for sociopathic men. That is not to say others are not targeted, but ALL of the women who answered our survey fit this profile. We know that because we had them complete a temperament inventory. Common temperaments are also why we find such camaraderie here on this web site. In addition to being fellow victims, we are likely temperamentally similar.
On a personal level, Valentine's Day is as bitter sweet as my favorite chocolate. I am in my mid forties, have three children, and have yet to experience a real partnership with a man. The reality is sinking in that perhaps this is not to be for me. My first priority has to be my role as mother and provider. The last time I tried to take a short cut to find a partner, I ended up with a sociopath. I simply do not have the time right now to fully devote toward finding and vetting a worthy partner. The importance of the vetting cannot be overstated!
Where does this leave me and perhaps you? Well, thankfully, a Valentine is not the be all and end all for a fulfilled life. The important need we all have is for connectedness and relatedness. Love relationships are but one venue to meet this need. Although I would like to end this post by saying that we will all one day find our Valentines, to do so would not be of service. It is better for me to say that we all have the potential for fulfillment and well-being with or without a Valentine. Today, I have well-being and fulfillment even though I do not have a Valentine.
To find out more about Women Who Love Psychopaths visit www.saferelationships.com.