Personality disordered individuals lie, blame and exaggerate in life — and do the same in court. By anticipating what your opponent will do, you will not be blindsided; you'll be prepared. Here's how to overcome their tactics and prove your case.
About this course
In your dealings with a personality-disordered individual, you've learned that this person lies, blames and exaggerates. In court, despite swearing an oath to tell the truth, he or she will continue to lie, blame and exaggerate.
How do you protect yourself? How do you make your case?
In this webinar, you'll learn how the traits and tactics of disordered individuals typically play out in court. This will enable you to anticipate what your opponent will do so that you will not be blindsided — you'll be prepared.
You'll learn remedial tactics that you can take against your opponent, such as educating your attorney about the disorder and using third parties. You'll also learn how to gather evidence so that you can undermine your opponent's credibility and show a pattern of abuse.
Finally, you'll learn strategies to prepare yourself emotionally for your day in court, so that instead of feeling victimized, you'll feel empowered to pursue the justice that you deserve.
Highlights
Typical tactics employed by disordered individuals in court cases
Measures you can take to combat your opponent's tactics
How to expose your opponent's abuse
Why you don't need to prove that your opponent is disordered
How to prepare yourself for the court battle
About the instructor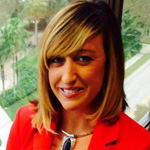 Megan M. Lyons, Esq., is an attorney based in Florida, with offices in Orlando and Miami. In her practice she handles bankruptcy, family law, child support, post-conviction criminal matters and business litigation. Having had her own run-ins with personality disordered individuals, when her clients have opponents who exhibit the traits, Ms. Lyons recognizes and defuses their tactics and strategies.
Ms. Lyons recognizes the stress and despair that legal problems creates, especially when her clients are suffering from narcissistic abuse. She advocates holistic healing through meditation, yoga, art and other forms of creative expression, and believes that these techniques can empower clients in their court battles.
Ms. Lyons holds a Juris Doctor (JD) degree from the University at Buffalo Law School. Before opening her own office, she launched the bankruptcy and foreclosure defense practice at Borack and Associates, handling thousands of files. She is a member of the American Bar Association and the Florida Bar Association.
 Sign up today! For more information, click the link below: