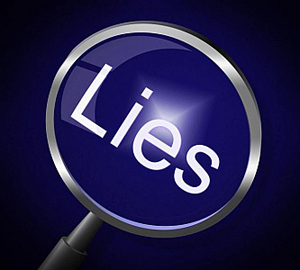 UPDATED FOR 2020: It's bad enough that sociopaths lie to hook you. But they also lie about you, which is known as the "smear campaign."
Anything they tell you about themselves may be false — their age, education, credentials, family details, income, criminal record, job or work history. And of course, sociopaths typically lie about their relationship history and status. They claim to be single when they are married; they claim to be childless when they have many offspring — even with multiple partners.
Sociopaths lie — it's the key characteristic of the disorder. When you fall for the lies, you feel like a chump. But what often turns out to be even more devastating is the lies they tell about you.
The smear campaign
Sociopaths typically engage in a smear campaign about their targets. These are outright lies that they tell about you to your family, friends, neighbors, co-workers and others in your social circle.
The sociopath's objective with the smear campaign is to compromise your social support system, and therefore increase his or her control over you. For this reason, the sociopath may start lying about you long before you suspect any problems in your relationship.
For example, a sociopath may have a conversation like the following with your friend, Jane:
Sociopath: "You know, I found out about six months into our relationship that Mary was cheating on me. She was secretly seeing a guy from work."

Jane: "I never knew about that!"

Sociopath: "Well, I imagine that she didn't want to tell you, because you might have said something to me. I know I can trust you."

Jane: "Of course you can!"

Sociopath: "I really love Mary, so I've forgiven her."
You, of course, never cheated on the sociopath — the entire story is a complete fabrication. But look at what happens because of what the sociopath said:
Jane thinks you cheated on your partner, which lowers her opinion of you.
Jane believes you are keeping secrets from her, so you aren't much of a friend.
The sociopath pretends to be wronged, which elicits sympathy from Jane.
The sociopath enlists Jane as a potential informer.
For taking you back after you supposedly cheated, the sociopath claims the moral high ground.
All of these dynamics may be very useful to the sociopath down the road, when you split up and find that your family and friends are supporting him rather than you.
The most common lies of the smear campaign
I've heard from many, many people that sociopaths have accused them of being crazy, psycho, unbalanced, needing therapy or needing medication. So I think the most prevalent lies sociopaths tell about you are statements undermining your mental stability.
What's really dangerous about these statements is the manner in which they are said. Instead of ranting about you, often sociopaths seem to be expressing concern.
Read more: Can you find out if someone is married?
A sociopath will quietly say to your friends and family, "You know, I'm really worried about Mary. She really seems to be losing it. But she just won't go see a therapist."
They come across as so believable.
You, of course, may be legitimately suffering from anxiety or depression because of emotional and psychological abuse by the sociopath. And due to the sociopath's gaslighting, you may even be questioning your own sanity.
Still, by questioning your mental ability to your family and friends, the sociopath weakens your standing and makes them less likely to support your decisions. The sociopath, in the meantime, is seen as a concerned partner, someone who is looking out for your well-being, which couldn't be further from the truth.
How to combat the lies: Pick your battles
Sometimes the sociopath's smear campaign has been going on for so long, and has been so well orchestrated, that you may find your entire family, social group or community aligned against you. I've heard from many people who realize that everyone in their church believes the sociopath's lies and not them.
This is terribly distressing. Your reputation is shredded, and you did nothing wrong. So how do you fight this? What do you do?
Unfortunately, sociopaths are such accomplished liars that some people will believe their stories no matter how much you protest. So here's what I suggest:
Learn more: Tools for navigating narcissists and other manipulative people
Figure out which people are really important to you and need to know the truth. Do your best to tell them your side of the story. Show them proof if you have it.
For everyone else, you develop a stock response, perhaps a shrug and, "He likes to tell stories."
You may find that you will need to walk away from some people, remove them from your life. So be it.
When you absolutely must fight the lies
There is one situation in which you must do your best to fight the lies: When you have a court case involving a sociopath.
Sociopaths have absolutely no qualms about lying in court testimony or court documents. When the sociopaths lie about you in court, you MUST object.
Court proceedings are all about establishing a "record." Because everything said during a court proceeding is supposed to be the truth, sociopaths are assumed to be telling the truth, no matter what they say. So when their statements are lies, you must counter them.
If you fail to dispute the sociopath's lies, they become part of the court record. This can turn into a real problem later on, with much bigger repercussions than the smear campaign.
Another time to fight is when you are accused of a crime that you did not do. You may be advised to plead guilty, especially if you can't afford a lawyer. This is generally a bad idea. A guilty plea means a criminal record, and a criminal record will cause you big problems later in life.
3 questions to help you respond to the smear campaign
Here's the bottom line: Sociopaths lie about everything, so they are likely to lie about you. No one wants to be characterized falsely. But realize that you can choose how, or even if, you will respond to the lies.
Here are three questions to help you decide what to do:
Does this particular lie damage my life?
Does this person need to know the truth?
Will responding to the lie keep me engaged with the sociopath?
In situations where you can move on without combating the lies of the smear campaign, that might be the best approach. Reserve your energy for taking action on the matters that are vital to your life.
Lovefraud originally posted this article on August 4, 2014.