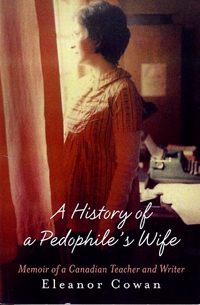 By Eleanor Cowan
My husband liked to discuss discipline. The importance of it. The intrinsic value of restraining one's impulses especially when such personal control would benefit the greater good of mankind.
My two children and I'd eat dinner while listening to his serious value-driven talks about what would please God and advance the salvation of this sorry world. Sacrifice and service topped the list. Politeness and containment followed.
It's very hard to look back at those years of my disassociation – to calculate the degree of blindness and emotional paralysis that, unresolved, characterized my life since childhood in my first abusive family.
I considered my husband to be a religious, professor-type, whose deep interest in philosophy was the cause of his seriousness. And while I thought I was super-Mom, supporting our family, my children were being sexually abused.
I had no idea. I missed king-sized clues.
One day, during our brief engagement, Stan and I walked towards a magnificent cathedral in Ontario. I began to speak about the recently arrested pedophile priest there who'd molested an innocent altar boy, a young kid who'd regularly assisted at the priest's Mass. The pastor was awaiting his trial at a retreat house.
I swore. "Jesus Christ Almighty! What a phoney bastard! What a depraved, selfish, compulsive hypocrite!"
Suddenly, Stan dropped my hand. He stopped short on the sidewalk and forcefully confronted me.
"Such foul, filthy and profane language!" he shouted with an venomous intensity that shocked me. "I would never, ever have anticipated such obscenity would spew from your mouth, Eleanor! And I'll tell you right now, our engagement is off, terminated, finished unless you apologize this instant!"
Blood rushed to my face as my heart thumped in sudden shame at having offended Stan, an ex- seminarian. I began to explain myself but was swiftly cut off. "You dare to swear against my personal God? You dare to blaspheme the very Son of God, the man centermost in my life?"
"Stan, I'm sorry that you're so upset. I had no intention of offending your personal faith or anything like that," I blundered. Tears coursed down Stan's face and, overwhelmed, I apologized once again.
"Don't apologize to me!" said Stan, turning me to face the church front. "Apologize to God!"
"I'm so sorry!" I said, still in shock. It all happened so fast. Shame burned through me from head to toe. I wished I'd expressed myself less offensively.
"I'm so sorry – to who?" Stan prompted me.
"I'm so sorry to you, God," I replied – my confusion and humiliation complete as I sought to pardon myself. I hurried away from the stone edifice.
Stan caught up with me and took my hand. "I see I'll have a courageous wife," he said. "It takes an honorable woman to admit her wrongs and her wrongdoing."
Within minutes of castigating a pedophilic priest who'd committed a crime against a child who trusted him, I became the bad guy, the guilty party, the despicable one, the one who needed to be forgiven for my gross, unacceptable behavior.
I'd passed Stan's test. I got 100%. I'd do nicely.
That summer's day, I qualified to become the unsuspecting wife of a pedophile and sociopath.
Eleanor Cowan is author of "A History of a Pedophile's Wife," which is available on Amazon.com. Visit her at eleanorcowan.ca