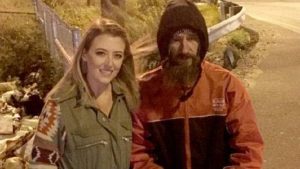 In this video from August, Megyn Kelly of Good Morning America interviews Katelyn McClure and her boyfriend, Michael D'Amico, about the more than $400,000 they raised for a homeless vet. Right there on national TV, they are lying.
In November 2017, according to McClure, she was driving on I-95 in Philadelphia when she ran out of gas in a bad neighborhood. She got out of her car, and was about to walk to get gas, when a homeless veteran who panhandled on the side of the road told her it wasn't safe — she should stay in her car. Johnny Bobbitt walked to a gas station, and using his last 20 dollars, bought her gas so she could get home safely.
McClure and her boyfriend, Mark D'Amico, said they were so touched by the homeless man's selfless generosity that they set up a GoFundMe campaign to raise money so he could get a fresh start in life. The story went viral, and in the course of one month, 14,347 compassionate donors contributed $402,706 to help Johnny.
Except the entire story was fake from the beginning.
The truth is that McClure and D'Amico met Bobbitt a month before they launched the GoFundMe campaign, during one of their frequent trips to a Pennsylvania casino. The three of them concocted the running-out-of-gas story specifically to swindle donors. The money is now gone. Instead of setting up trust accounts to help Bobbitt, McClure and D'Amico allegedly spent most of the money on themselves — on gambling, vacations, a BMW and designer handbags.
Their story started to fall apart last summer, when Bobbitt was back to panhandling on the streets of Philadelphia. He said the couple wouldn't give him his money. A big Philadelphia law firm filed a civil complaint for him. That's when an attorney for McClure and D'Amico admitted that the money was gone.
The Burlington County, New Jersey, Prosecutor's Office investigated. They raided the couple's home and seized their electronic devices. Text messages and recorded conversations indicated that the entire story was fabricated. McClure, D'Amico and Bobbitt have all been arrested and charged with theft by deception.
Read the story here. It includes the actual investigation report written by the prosecutor's office, which lays out all the scam details — disgusting stuff.
GoFundMe scam leads to charges against Johnny Bobbitt, Kate McClure, Mark D'Amico, on Philly.com.
Spinning the story
When they launched the GoFundMe campaign, McClure and D'Amico engaged in a media blitz to push their fake rescue story. The Burlington County Times ran an article. McClure created a video of she and her boyfriend showing Bobbit the article, posted it to YouTube, and it went viral. More newspapers wrote articles, and then McClure and Bobbitt landed multiple interviews on ABC's Good Morning America.
Here's what was really going on when McClure and D'Amico appeared on Good Morning America on August 27, 2018 — the video posted above:
GoFundMe had paid $367,109 into McClure's bank account. All of the money was gone and the account was overdrawn.
On December 4, 2017, McClure spent $18,350 on a trailer for Bobbitt to live in, and parked it on the property where the couple lived. But the trailer was titled in McClure's name, and in June she sold it for $10,000.
Bobbitt opened a bank account on December 27, 2017, and $31,623 was deposited into it. Within three months, $23,645 had been withdrawn.
In February 2018, McClure bought a 2015 BMW for $24,432, using funds donated to the campaign. She drove the car as her personal vehicle. Three months later, the car was used as collateral for a $10,000 loan.
Between November 2017 and August 2018, McClure and D'Amico took vacations to Las Vegas, Disneyland in California, Disneyworld in Florida, and New York City.
McClure bought 12 designer handbags — Louis Vuitton, Coach, Michael Kors and Vera Bradley — paying $11,451 in cash.
From November 30, 2017 through March 26, 2018, McClure and D'Amico withdrew $188,051 in cash from their accounts. Of that, $85,262 was withdrawn in or near casinos in Atlantic City, Bensalem PA, Philadelphia and Las Vegas.
On TV, McClure and D'Amico denied using any of the donated money for themselves, and said $150,000 was available for Bobbitt. They were lying.
Why we fall for charity scams
Those of us who are normal want to believe in the goodness of humanity. We want to help people who seem to be deserving and only need a helping hand in order to turn their lives around.
The fake story, as McClure, D'Amico and Bobbit told it, tapped into all of what's good about human nature. A man who had virtually nothing used his last $20 to help a stranger. She and her boyfriend wanted to return his kindness by helping him get off the streets and overcome his addiction. It's a thoroughly feel-good story that appealed to our better nature.
Unfortunately, it was a scam, run by three audacious con artists.
GoFundMe is returning the donations of everyone who contributed to the Johnny Bobbitt campaign. I hope when they go to court, they are ordered to pay restitution. McClure, D'Amico and Bobbitt will be paying for the rest of their lives.