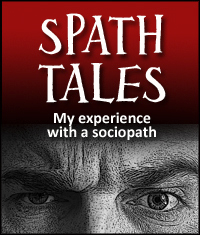 Editor's note: Part 2 of a series submitted by a Lovefraud reader whom we'll call "Laura-Marie." Read Part 1, Part 2 and Part 3. Names have been changed.
My birthday, one year and one day after he moved in.
I asked if we could go out to celebrate, but he said we had no money.
No money? That had never stopped us for the entire year he had been there. I told him we did not need money to go out, we went out all the time with no money.
The day of my birthday, he asked if we were going out that night, but I said it didn't sound like he wanted to, as when I tried to make plans earlier, he had no interest.
He told me he loved me and wouldn't miss it for the world. I begged him to make his phone calls with whoever he had to call before we went out, so I wouldn't have to sit alone in the lounge on my birthday.
He said he would try, but he had one or two calls he had to make that night.
He made love to me that night and I cried through it. It hurt so bad to know that I didn't have him to myself.
Two days later, he left to watch Monday night football with his friends and to celebrate Bobby's birthday. When he got home, I was already in bed.
He quietly walked in the room and placed his iHome on the nightstand. He only used this to play music from his iPhone. Why would he need this when he was watching football with his friends?
I knew he lied at that moment.
I remembered he told me that while he was still living with his wife and had a girlfriend (claimed his wife knew the marriage was over and he was dating, but he stayed with her until the kids graduated), that he would tell her that he was going to Bobby or Roger's house, when he was staying with his girlfriend.
He was now doing it to me.
He kissed me on the cheek and said goodnight. He said it was too early to go to bed, so he was going downstairs to watch television.
He left early in the morning the next day to film an infomercial that he got after I shared the audition information with him. I had a birthday party that evening for my friend that I would go to, since he was filming until about 8 PM.
I went to the gym before the party. As I sat in the steam room, it hit me.
God spoke to me loud and clear. He was with Charlie the night before.
I thought I was losing my mind. I tried to get the thoughts out of my head.
I went to the vanity area to blow dry my hair, but the voices got louder and louder.
He was with Charlie. He was with Charlie.
I got my phone out and looked at her Facebook page. It was her birthday the night before. Of course he was with her.
What do I do???
The voices were yelling at me to call her. My head was spinning. I was going crazy. What if I was wrong? I was going to look insane.
I looked up her place of work, which was listed on her Facebook page. There were two phone numbers on the website page. I called the first number and she answered.
I got scared and hung up.
I called back again, my hand shaking so bad I could barely hold the phone. I didn't know what to say. I told her that I thought the guy I was dating was cheating on me with her.
I asked if she was with a man last night and she told me she didn't know me and didn't have to tell me anything.
I begged her to just tell me the first name of her boyfriend. That was all I wanted to know. She wouldn't tell me.
She asked how long I dated my boyfriend. I didn't know what to say and said it hadn't been long.
I made up a phony name and when she asked where I lived. I made up a place. She asked where I met my boyfriend and I told her I met him online.
I told her that I had been cheated on in the past and just couldn't be in a relationship with another cheater, so I needed to know.
She said she was at work, didn't know me, wasn't going to tell me anything and couldn't talk to me.
As she was about to hang up, she asked what kind of car I drove. I told her and she didn't say anything.
I said, "That's what he had when he saw you, right?"
She told me she had to go and hung up.
I called back the other number on the website and got a voicemail. I apologized for not telling her the truth and gave her my real name and where I lived.
I shared my boyfriend's name and how long I had been with him.
I gave her my phone number in case she changed her mind and wanted to talk.
The phone rang a few minutes later. She said that he had been seeing her in that car and a green car for a year.
I told her they were both my cars.
She finally believed me. She told me that he had lived with her for four months, but moved out when she was having financial problems.
He told her he was leaving her home and moving to California to take care of his sick mother.
I informed her that his mother lived in Utah and wasn't sick.
This woman moved to California, thinking he was there, in order to be closer to him, as he had no car and said he wouldn't be able to see her often as a result.
She commuted to her job and he didn't stop the charade. He let the lies continue.
I kicked him out that night and told him to bring my car back. He refused and said he needed it.
How dare this man think that he could take it to screw all these women and then think he deserved to keep it!
I told him I would call the police and report it stolen if he didn't bring it back. I had to be at work at 7 AM and needed it to get to work.
He accused me of lying. The bastard lies to me for over a year and has the nerve to accuse me of lying when I wasn't.
How much lower could he go?
Much lower. Much lower.
I asked if he moved back in with her and received an angry response that I didn't even ask how he was doing and only cared about myself by asking if he moved back in with her.
His manipulation continued. He sent an apology email, but it wasn't sincere.
He still continued to blame me and said he had nowhere to go now. He said he had to spend every cent he had in order to not be homeless and was still trying to find a place to live.
I knew he was lying. He was with her. They get to live happily ever after, while I live with the devastation and destruction of my soul that he had left me with.
He sent an email that I made him crazy with all my accusations that were not true, including Shane.
He still could not tell the truth.
I needed the truth. I had to find answers. Who was this man I lived with for a year? I have no idea. He was a stranger. Nothing he said was true.
I was conned. I was used. I was nothing to him, but a meal ticket.
I can't sleep. All I can think about is falling asleep and not waking up. I can't live with these memories anymore. Please make them go away.
Where is he? I need money to pay the American Express bill he left me with. I can't afford it.
And all the $1000's I spent on groceries for him. The utility bills that quadrupled after he moved in. All I think of is how much in debt I am in and how I wouldn't be if I had that money back.
And my frequent flier miles. He couldn't miss his father-in-law's funeral. I had to volunteer them, but he said he would make it up with all the trips we would take together.
And when his son returned from his mission. He hadn't seen his son in two years and cried that he may not be able to be there when he came home. Again, I had to offer them.
I could be in Hawaii on vacation if I had them back. But I gave them to him. I worked for a decade to get them. And they are gone. To the person who least deserved them.
And my cars. The miles put on them. I could never afford to buy a Jaguar ever again. 20,000 miles were put on a car that I never put more than 6000 miles a year on.
He dragged my heart, soul and mind through the mud and I'm left with nothing but financial losses.
The psychological and mental abuse was beyond anything imaginable. I couldn't imagine doing this to someone I hated, yet he had the ability to do it do someone he lived with and claimed to love.
His soul is empty. No empathy, no compassion. Only concern for his own needs.
Shallow apologies. Meaningless. He doesn't care what he has done. His lies continue. No real signs of repenting as he claims.
But he says I need to repent to be healed of my pain. Why do I need to repent? All I did was give my heart and soul to this man. I did nothing wrong.
At least I thought I did nothing wrong. I was so wrong to allow this man in my life.
A con man. I lived with a con man.
I began doing online searches to find where he was. Spokeo.com. I thought it was a waste of the $9.95 that I spent and couldn't afford, because none of the address were current.
But it listed social profiles as well. OK Cupid? I met him on Plenty of Fish and caught him on Match.com.
I did a search by his age, location and height. Bingo. He had an online profile looking for casual sex. Things can get worse.
How many women did he sleep with? Did I catch something? I got an infection and urinated pure bright red blood two days after he moved in.
I know he had sex with her the day he moved out and had sex me later the same day. I had no idea at the time.
But casual sex? AIDS? Herpes? How could he do this?
I'm sick. I don't want to live. This man is evil. Shane Lee. I know he was with her. I need to know the truth.
I can't find her though. I emailed Tammy and begged her for the truth, but she forwards the email to him.
He emails me and asks why I contacted her and I told him I was seeking the truth, something he hadn't given me.
He admitted he lied about Shane, but only tells a half truth. He was "in touch" with Shane.
His word games. The manipulation. He won't stop it. She called and texted him every day. Many times a day. Late at night. S Lee. I saw that name over and over on the phone.
He tells me he has repented and has been forgiven by God, but repenting requires confession. He still won't be a man and tell the truth.
I asked if he took my car to see her too.
He said she met him while he was in LA for an infomercial. He didn't come home that night and said he was staying up there because he had a meeting.
I asked if he stayed at her home and again, word games. He told me she lived with her parents. That did not answer the question, so I ask the direct question, did she stay wherever you stayed?
No answer. I got my answer.
Where was the Mormon man who treated women with the ultimate respect? He had two girlfriends and a wife.
And, I am destroyed. Psychologically, emotionally, spiritually. Never to be the same. Ever.
And he lives happily ever after.
Almost a year later, I still can't sleep. I have a hard time leaving my house.
I lay in bed every night having flashbacks of the psychological abuse he put me through. I wake up in the middle of the night from nightmares.
There are days where I feel like I just want to end my life because I can't go on with these flashbacks. I have flashbacks every day at the gym we worked out at together.
Will the nightmare ever go away?
I found another profile online looking for couples and men for experimentation.
I have no idea how many men and women he was with during the year he lived with me….