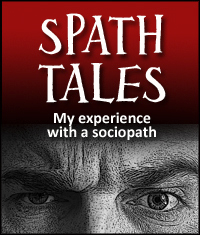 Editor's note: The following story was submitted by a Lovefraud reader whom we'll call "Sebastian."
Dated a female sociopath over 3-4 years and have a child with her. The child is now over 2 years old.
She was held for 72-hour observation on average once every 3 months. Constant shoplifter, abused Rx medications, and would cheat on occasion.
The stealing and drug-use was accompanied by remarks, for example, "I stole cause you don't give me enough money," or "prescription medications are fine because doctors prescribe them," and "I did it cause you didn't pay enough attention to me."
I was working 40+ hours a week, going to school full time, and still taking her to 4 therapy sessions a week. During this time she did not work and was filing for disability.
One time she told doctors treating her for a cut on her head, which she did herself, that we had an argument. The doctors and nurses were ready to call the police on me.
Professionals have diagnosed her with affect disorder and anti-social behavior disorder.
The worst was when I broke up with her. She ended up being 3 months pregnant.
Two months before our son was born I was diagnosed with late stage cancer. By then she had moved away and was calling me on a daily basis, worked up with an anxiety attack over little things.
I was told to put my treatment on hold and come take care of her and when I told her I couldn't, then she told me to give her money or stay out of our child's life.
At this point I got upset and yelled back, saying something out of character for me.
I spent over $8000 for legal fees and still have to pay more to a lawyer, and didn't get to see my child till they were over a year old.
She now claims to be born again and tells me every time I see my child I need Christian counseling because I am a bad Christian.
I cannot get into how difficult it is to get used to the fact our child is named to hurt me. I am tied to this woman for the rest of our child's life. I cannot tell the child what their other parent really is like cause they don't deserve it.
The courts won't do anything cause all the evidence I could use is protected by HIPPA Laws.
This is a story that falls under "No good deed goes unpunished."