By Indie Mom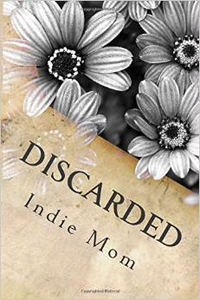 I never started out to write a book, let alone a personal memoir, laying bare the most intimate and personal details between my husband and me and our children. Looking back four years since he left our family home, I can barely believe the repressed stories that have surfaced, and even more, stories that make complete sense to someone other than me.
Because I had endured years of gas lighting, projection, triangulation and manipulation at the hands of my husband and father of my children, I looked and felt like a very unwell person when I tried to share anything with our closest friends and family members.
Eventually, when our house of cards came tumbling down, there was also a part of me that believed I was the reason behind it all: It was my fault that my husband sought the companionship of another woman. It was my fault that we were embroiled in a high conflict divorce. His parental abandonment was a logical decision in escaping a home of discord and chaos that I created. And worse yet, the pain and suffering experienced by my beautiful and innocent sons was mostly my doing.
A new understanding
Today I understand that none of this could have been further from the truth. However, it has taken time, unbearable pain, and continued work to get to this place.
When I unknowingly embarked upon a healing journey, it began when an old friend suggested I find a twelve-step support group due to a desire to understand my husband's alcohol abuse. Within thisvsupport group of complete strangers, I began to share tidbits of my life's story. That experience led me to a local women's abuse group.
While listening to their stories and sharing my own, I finally knew I was not crazy. I then found a personal therapist and with her persistent and gentle guidance, I took apart my relationship with my husband piece by piece.
Reading. Learning. Sharing.
During these times, I also read. And read and read. It felt as though the floodgates of my psyche were thrust open. I also found a very safe and accepting online abuse recovery forum where I could advance in my healing journey by integrating what I had learned from support groups and counseling, with telling my story as many times and in as many ways as I needed. A funny thing happens when you begin to discover a commonality amongst anonymous persons. You share unconditionally. You trust. You analyze and offer ideas. You begin to move forward believing, yet with a guarded resolve, that life can be better.
The healing timeline isn't always clear, but there comes a time when you suddenly see a light in the distance that wasn't there before. I was absolutely shocked that there existed other women, children and families enduring the same hell I was living.
"˜Discarded' — a source of hope
Eventually, this personal pathway through a labyrinth of internal conflict ended at an unexpected pinnacle of self-actualization — the writing of 'Discarded'. All of the sudden, and almost like an epiphany though, "˜Discarded' represented something else. It became a story of hope for others. A hope that other confused and hurt and utterly exhausted spouses and parents could find, through my story, the courage and strength to stand a little taller, think a little more clearly and realize without a doubt that love of self and for a child never fails. It is the constant to return to again and again in rebuilding lives destroyed by a psychopath.
Discarded — One Mother's Journey with a Psychopath is available on Amazon.com