By Natalie Monroe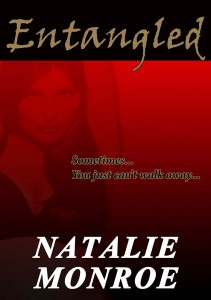 Divorced after thirty years and unsure about my future, my confidence level was at an all-time low.
Alone for the first time in my life and living in Florida, I felt isolated, but too scared to get back into the dating scene. Luckily, I didn't have to.
Only three months on my own, an old classmate through the high school website contacted me. I remembered him right away. "Daniel Weaver" (not his real name) one of the popular boys and someone who never had an interest in me. Taking a chance, I agreed to meet him in New York, on my next trip home.
Good-looking and charming, he said all the right words to make me fall for him. Intent on overcoming the difficulties of a long distance romance, we visited each other frequently.Daniel was the man who could turn my dreams into reality, and a second chance for love.
However, my happiness didn't last. At first, his controlling ways were sexy and made me feel like he really loved me, but he soon used my love to get what he needed. He moved in with me, making it hard to refuse when he asked to borrow money. The more I spent, the more entangled I became.
Caught up in my hopes and dreams, and reluctant to believe he was evil, I couldn't let go. Conflicted between rational thinking and emotional neediness, I ignored my suspicions, convinced that I could handle our relationship.
His vagueness left me with questions, but he had a knack for diverting my fears. Daniel had my love, my money, and my dreams tightly bound, and I found myself on an emotional roller coaster, trying to hold on without losing myself. This book is my personal journey with a sociopath—handsome, charming, and potentially lethal to my soul.
About a year ago, 20/20 did a segment on Ray Holycross, a good-looking, charming sociopath, who courted and seduced dozens of woman on online dating sites, then moved in, mooching and using until they were fed up.
Although arrested on a petty thief charge, what Ray did isn't necessarily criminal. Every year, thousands of women find themselves entangled in a relationship with the wrong person and things just don't work out. Sometimes, it's not always black and white.
Unfortunately, I met someone like this three years ago. The shame of admitting I was a victim is not easy, but I suspect that other women have gone through something similar, and may benefit from this book.
Entangled is available on Amazon.com.