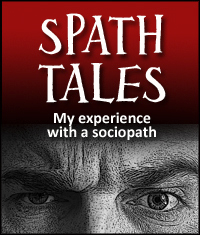 Editor's note: This story is from a Lovefraud reader whom we'll call "Eve2014."
I have what is known as Narcissistic Victim Syndrome, and have suffered from it since I was narcissistically abused* by my father, who was diagnosed with Borderline Personality Disorder.
I have been diligently and continuously working on myself in therapy for many years, with a slew of diagnoses that are all incorrect. It is only because of my involvement with a psychoanalytic therapist who behaved like a sociopath,** that I have reached the depths of emotional devastation and worked like a demon to solve the mystery.
I cannot say whether Dr. X is a sociopath, psychopath, or narcissist, as I am not qualified to diagnose, and he hid so much of his real character from me. Perhaps he is just an average abuser (still potentially deadly in his position), but by using psychoanalytic techniques without informed consent, comes across as a sociopath.
Let me tell you: the resulting pain and suffering are the same, if not worse because of the context.
My involvement with this man began when I was referred to a psychiatrist (Dr. X) for help with insomnia. I told him about my father, my symptoms, my history. He diagnosed me with C-PTSD (which is correct, and is a result of narcissistic abuse).
Dr. X, invited me to work with him in his private practice, which he called psychodynamic psychotherapy. His business card reads: "psychoanalysis."
Dr. X wrote a letter about me describing how my ego strength was impressive enough to handle this type of therapy; the letter was read to me second hand by a therapist.
My doctor gave me a referral. Apparently this practice is considered legitimate medicine, and can be billed to government funded health-care services. I knew nothing about what I was getting involved in.
When I arrived for my first session, Dr. X refused to answer any questions I had about the therapy or my diagnosis. I assumed the secrecy was an aspect of psychoanalysis.
Because I am quite intelligent and intuitive, I thought I was understanding the meta-communication based in metaphors and allusions.
A few days later I would always realize that he had given me no real information. As my involvement progressed, I grew increasingly anxious and found I was unable to resolve any difficulties with Dr. X.
When I tried to terminate, he gave me the predatory stare and I jumped.
He told me that my response was a symptom of my condition and that in his professional opinion, I was making a huge mistake in leaving… that it would take a LONG TIME in therapy for me to recover.
I came to my senses after just over a year of weekly sessions.
By then I had extreme digestive distress and had become a shell. I realized that the answers and healing that he kept dangling in front of me were never coming.
My destruction was imminent, and I suspected he didn't give a damn. In fact, he seemed to take pleasure in my struggling.
I went into shock and an image of a dictator emerged from my psyche. I phoned him two days later, and his cold, hostile tone turned my blood cold.
Once I left I had a nervous breakdown, and checked into the Emergency room. Luckily a psychiatrist there advised me not to go back to Dr. X. Once I very slowly started to heal and ordered a small fortune of books on Amazon, I was able to see in retrospect just how scary was the situation I escaped from.
He had used shock tactics, withholding answers to direct questions, the illusion of moral superiority, blaming, anger flare-ups when I didn't "co-operate," seductive behavior, abuse, gas lighting, manipulation, and emotional blackmail (I use these terms seriously, based on actual research.)
I had to solve riddle after riddle, meanwhile he remained stone-faced and kept his voice at a hypnotic monotone. I was assertive and had pretty good boundaries, but these just created problems for me. He would tell me that I needed to trust him, and the fact I didn't was again due to my condition, and "because he reminded me of my father."
In the end, the same critical thinking skills and instincts he tried to erode, ended up saving my life.
I got completely wound in Dr. X's web even though I saw the signs, because I was led to believe it was all part of "psychoanalysis," that it was for my own good, and that due to my mental health condition, my perceptions were false and paranoid.
Because I legitimately do suffer as a result of my childhood, I was hooked on the hope of rectifying the past. I understand that this is exactly how average people get drawn into cults.
I have filed a formal complaint and done a significant amount of recovery from the experience; I can see clearly how it correlates perfectly with all the research I've done on pathology.
I fervently, adamantly want to help raise awareness to prevent this from happening to others, if possible. Other professionals have tried to invalidate my experience several times.
My formal complaint is well-articulated and still in process, and outlines the dire need to implement obligatory informed consent procedures at the very least for this highly questionable type of therapy. Only then can we minimize the damages and prevent sociopaths from using this avenue to exploit vulnerable people.
Sincerely,
Eve2014.
*Narcissistic abuse has been studied extensively but knowledge on victimology seems lacking among mental health professionals.
**I use the term sociopath for the purposes of understanding. What I mean is a person who lacks a conscience and tortures others for entertainment, in a highly devious manner that is hard to detect.