By Margaux Mannion Brown
Editor's note: Margaux Mannion Brown is the pen name for a Lovefraud reader.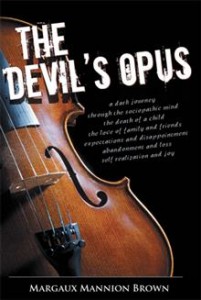 Ideas for The Devil's Opus began to emerge when I became fascinated with sociopathic personalities. This occurred when I discovered that one of my close friends had married one.
Everyone liked Joe. He was charming, flattering, and helpful. So helpful, that through his career as an investment broker, he was able to scam hundreds of thousands of dollars out of his clients, friends and family. Most of the money was lost on gambling. The rest of it went on big houses, fancy cars, and expensive vacations he pretended to afford. Things fell apart for Joe when people began to demand their investment returns.
Rather than go to prison, Joe committed suicide, leaving hundreds of investors broke and without retirement funding. He left his wife, Carol, with mountains of debt, emotional and spiritual devastation and two young children to raise on her own.
How does one even begin to understand Joe's arrogance and grotesque sense of entitlement without a context of evil? Throughout my research on sociopathic behaviors and the sad, often sinister stories from victims of sociopaths, it became apparent that charm and flattery, convincing lies, false promises, sad sob stories, and endless pity plays are all part of the sociopath's vocabulary. Sociopaths seem to intuitively know that the employment of their craft will serve their own wants and needs. They believe the end always justifies the means. The end is always about them and the means is always their grift.
In my fictional novel The Devil's Opus, I have created two such characters, Leo Buckman and his best friend, Eddie Saldana, and just like the nonfiction of real life, their evil karma eventually catches up with them, but not without the dire consequences that befall the innocent victims who are caught in their evil web.
The Devil's Opus is a novel about the wealthy and prominent Reno family, the Mezzos, and how they react to the sociopathic duo Leo Buckman and Eddie Saldana, the demise and eventual murder of their daughter Katie, and the hard choices they must make to save their granddaughter Anna, and themselves.
Part one of the story is told by the renown violinist Sophie Mezzo to her psychiatrist, Dr. Myra Angelista, and exposes Buckman's grift as Katie's life unravels into drugs and decadence. Part two of the novel begins with a letter to the Mezzos from Eddie Saldana. This letter reveals the circumstances surrounding Katie's death and convinces them that Leo Buckman is responsible for her murder, setting in motion Tony Mezzo's far reaching revenge, even though as a prestigious criminal attorney, his actions defy his own moral boundaries.
For me, The Devil's Opus is not only an examination of the sinister, but is also an exploration of the human response to it, sometimes found in those grey areas of human nature and the human heart. I hope readers will embrace and learn from this thought provoking journey, realizing that evil often comes to us appearing to wear angel's wings.