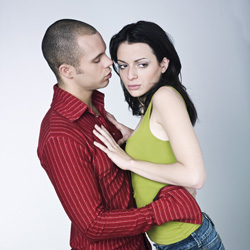 UPDATED FOR 2022. Lovefraud received an email from a reader whom we'll call "Ingrid." She brought up a question that I've heard over and over. Ingrid asked me why sociopaths cheat.

Just wondering if you could tell me why sometimes they stay with others longer as I feel he wants this new woman for his main supply even though he was trying for a baby with me. What does a main supply have that I didn't? He seems settled with her.
Ingrid, most sociopaths cheat on their romantic partners. In fact, they are often cheating throughout the entire relationship, but it may take you a while to find out about it. Or you may have caught hints that the sociopaths were cheating, but they were able to explain the situations away. Eventually, however, you have so much evidence that you can no longer ignore their infidelity, even if they keep lying about it.
Admitting the truth to yourself, you are hurt and angry at their betrayal. You may also feel that in some way you were not "good enough," and that's why the sociopath strayed. The sociopath may actually tell you that — but don't believe it.
What you need to understand is that sociopaths will cheat regardless of who you are or what you do.
Here is the basic truth: Sociopaths engage in romantic relationships not for love, but for exploitation. If a sociopath engages in a romantic relationship, it's because the romantic partner is a target who has something that the sociopath wants.   
What does the sociopath want?
So what does the sociopath want? It could be anything. Here are some possibilities:
1. Sex
Even if you are having regular, rambunctious sex with the sociopath, he or she will always be looking for a new sexual adventure. The new target may not be younger or more attractive — it's just someone different.
2. Money
Many sociopaths are always on the lookout for someone whom they can scam for money. This is especially true if you are running low on funds because the sociopath has already convinced you to spend all your cash and run up your credit cards.
3. Housing
Sociopaths may like the new target's accommodations better than yours. Or, the sociopaths may suspect that you're getting ready to kick them to the curb, so they need a backup plan for living arrangements.
4.

 

Connections
Sociopaths are frequently cooking up some "deal" or "project" — code for a scam — and the new target may know someone who knows someone who could be talked into participating.
5. Entertainment 
Sociopaths sometimes start romantic pursuits for the fun of it, just to see if they can catch the target. This often happens with online involvements. Sociopaths keep sending texts and emails, proclaim love, promise to get together — and never show up. They never planned to show up — the whole involvement is nothing but a game. 
These are just a few of the possible reasons for why sociopaths cheat. The truth is sociopaths do not even need a reason. The cheating may simply be that an opportunity presents itself and the sociopath pounces.
Sociopaths are incapable of love
If your romantic partner exhibits most or all of the the key symptoms of a sociopath, and you discover cheating, please don't ask yourself, "What does that person have that I don't have?"
Despite what sociopaths said in the past, they don't love you and they never did, because they are incapable of love. So a new target just means that the sociopath has found someone else to exploit.
No happily ever after
So Ingrid, please understand:
1. There is no point in being a sociopath's "main supply." The main supply is just someone who has more to lose to the sociopath.
2. Perhaps the new target does have something that you didn't have. Again, it means she has something else that the sociopath wants to take. This is not good for her.
3. If the sociopath seems "settled," it's only because the sociopath is engaged in a full-court press to snag the new target. Once she has been drained of everything the sociopath wants, she, too, will be discarded.
Learn more: What did they want? Psychopaths, antisocials and other exploiters in romantic relationships.
Here's why sociopaths cheat: It's just who they are and what they do. When sociopaths move on to new targets, you may want to feel sorry for them, but not jealous. No one lives happily ever after with a sociopath. All involvements are bad; it's just a matter of how much damage the sociopath inflicts.
Lovefraud originally posted this story on August 17, 2015.