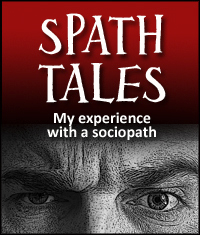 Editor's note: Lovefraud received the following story from a reader whom we'll call "Mario."
My wife peed in my drinking water then turned down the lights and then laughed after I drank one gulp.
She spent the night with a lesbian lover the night my grandmother died.
She told me she didn't care that our 1 year old daughter was falling off the bed 3 feet to a concrete floor, raised a fist to punch my 15 year old daughter in the face 3 times, punched me in the back of the head multiple times, pinched her fingertips together to cut my face to shreds while I was holding my computer trying to load the car to leave, threw car keys, plates, ceramic mugs, and punches at me while I was holding our 9 month old, stolen/taken/hidden my Adderall medication multiple times – and lied on court documents in order to get a restraining order to keep my daughter from me after stealing all of our money from checking and savings, having my phone canceled, and moving all of my belongings outside to move her mother in.
She's a nurse and she's routinely stolen drugs, admitted to tormenting patients who angered her, threatened to give our daughter away to strangers to hurt me.
She consistently will talk without end about her own mother being a manipulating horrible woman with mental disorders but in the end emulates her in every way but with explosive rage added on – during which times she completely destroyed two 55 inch flat screen TVs, one chess set purchased by my kids for me for my birthday years before, shattered a collectors edition Superman ceramic bank from the 70s, 2 mountain bikes – one of which was irreplaceable, the table and chairs my deceased grandmother left me, 2 keyboards, and a drafting table.
She has described multiple moments of explosive rage she's had since she was 9 years old and threw a large glass paperweight at her father's head.
She's told me in rare moments of honesty that not only does she never feel a sense of compassion of pity for me when I'm hurt or needed to feel close to her – she told me she feels irritated and repulsed anytime I get sick because it comes across as weak to her.
She told everyone when I confessed to struggling with pornography and after humiliating me with it in front of her entire family asked me to take her to a strip club a few months later where she bought a lap dance from a woman while checking with me and grabbing my crotch every 5 minutes to "make sure I wasn't aroused."
Her own therapist told her she believes she has serious issues as a result of her generational abuse and manipulation patterns that have created a deep seated hatred and rage in her that some people would refer to as being "possessed" due to the intense rage, lack of remorse, and hate with which she acts.
She once asked me to get her coupons from the car while she was checking out at the cashier, when I gave them to get and told her I needed to go to the bathroom only a few minutes passed until she stormed into the men's room where I was using the bathroom, banged on the stall door and screamed at me for not bringing her all of the coupons she wanted – some were in the middle section and I didn't see them.
There's more and she's unbelievable at faking who she is.
She's also completely insane to the point that she told me once when I make her mad she has actually said a prayer to Satan asking him to put a man in her path that day for her to "f*ck" in order to hurt me.