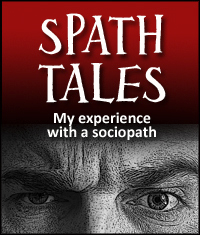 Editor's note: Lovefraud received the following story from a reader whom we'll call "Charlotte."
I was married for almost 28 years. As the years went on, our marriage changed–especially after we had children.
I noticed some lapses in parenting–carelessness, not following through on routines, etc. (Though I must say I was not aware of what a good marriage should look like, coming as I did from a narcissistic family background. I put up with way too much bad behavior, even initially.)
I began to realize my husband was immature and irresponsible. He also was controlling, especially about money.
I often felt gas-lighted by my husband: He would agree to something, then deny it, or spin it. Bills would not be paid, but he always had an excuse. He didn't follow through on promises, but denied that he had promised. If I could prove it, he would switch tactics and blame me.
All of the usual things I now know to be true of sociopaths. He often said the right words, but his behavior didn't match.
About 10 years ago his behavior got worse. He distanced himself even more from me. He began to be occasionally verbally abusive.
Our finances were a mess, and I suspected he wasn't working very much, (He is a self-employed CPA.) I found he was playing basketball for HOURS every day, when we were in enormous financial trouble. (At that point I had 3 children and had just returned to work very part-time, so I had some money of my own.)
I also suspected he was cheating on me–though I felt foolish about that. He seemed to be the LAST man who would cheat. More on that later…
However, things were bad enough that I felt I needed to look into the possibility of a divorce at some point.
I realized he had had complete control of our financial information–bills mailed to his office, taken out of the mailbox before I came home, etc. (His self-employment allowed him flexibility I didn't have.)
Well, long story short, as I was searching for my financial information in some bins in our basement, I came across evidence that he had embezzled from 2 clients–for at least 3 years!
I confronted him, he denied it, I pushed and he finally confessed. With tears running down his face he said he had "screwed up."
I was horrified.
I had 3 children, 10 years apart. My oldest was a junior in high school, my youngest in first grade. They went to very good private schools. We belonged to a tennis club, a church. My children were academically and musically gifted.
My husband got some of his business through me and our schools and organizations. We were considered the family who "had it all"– how could this be true??!!
Well, after he broke down, agreed to stop stealing, make restitution and get therapy (as well as quit basketball), I wrote my own story: his father had just died, we had just built a new house, he was pressured by the bills. Our children were getting older and more challenging,,,
Of course none of this was the truth about why he stole, it turned out. As is typical of sociopaths, he wants to live a parasitic lifestyle.
But at that point I didn't understand all of it. He went to therapy–after my threats and insistence–briefly.
I don't believe now that he ever made restitution, though he said he was going to. And he resented me enormously for making him quit basketball (which he had played at another private club.)
I see now–in hindsight–that his behavior toward me changed greatly after I found out. He never treated me the same again, now that I had seen him for what he was.
I DID believe he had quit stealing, however. As time went on, and he made no effort to connect with me or work on the marriage, I tool a full-time job and basically opted out of the marriage emotionally.
I decided to stay for the kids' sake–erroneously believing that though he was not a good husband, he was a good father. Wrong again.
Fast forward 8 years. My older son (middle child) graduated from high school. My husband was even more distant and disconnected–yes, I should have seen something, right?? He was like a walking zombie–barely speaking to any of us.
However, my son had been admitted to a great college out east, and we were taking him out there. On the trip my husband was occasionally a somewhat normal husband and father, but more often short-tempered and disconnected–even though we were both proud of my son.
When we returned from the trip, I once again considered pursuing a divorce, but couldn't put my finger on the problem. Well, it wasn't long before I could!
While searching for flights to bring my 2 older children home for Thanksgiving, I asked to use my husband's laptop, as our home computer was not working (!)
Yes, you guessed it: He is a severe porn addict!
He had started deleting his history, but I got impatient and grabbed the computer from him. He was spending HOURS a day on porn!
And, of course, not working. He was generally home for dinner most nights! Financial difficulties explained! However, our finances seemed to have improved by this time….I'm sure you guessed it again: I found what looked like more evidence of embezzlement.
He had also lost one of his clients–one of my children's schools–almost $70,000 due to negligence. He hadn't even opened their mail!
There, of course, is lots more. But I immediately filed for divorce. This lazy, careless person became ENERGIZED in his attempt to "win" the divorce.
The irony is, if he had just walked away and let me have the very little I asked for (he would take on the debt–much of which I hadn't even known about–and let me have full custody of my youngest son and the little equity we had in our house) I probably wouldn't have suspected he was still stealing (numbers did not add up on financial disclosure, etc.).
Through the course of the divorce I also found out he had not paid his self-employment tax in 20 years! That was since I was pregnant with my second child!
He tried to say he didn't need to pay, because he was an S-Corp. That isn't true, for one thing. But in addition, he wasn't even incorporated for 14 of those 20 years.
So now he is going to be in pretty hot water, I believe. Throughout the divorce–and even now–he's tried to threaten me with reducing support, maintenance, etc.
He and his attorney tried desperately to get me to sign a non-disclosure clause, but I would not sign. Even my own attorney wanted me to sign, thinking it was in my financial best interest. But I am not going to protect him, at the expense of his clients, etc, any more. I shouldn't have believed him 10 years ago.
If my son and I lose money, I will do my best to get a better job, work more.
I now have been divorced 6 months. He is taking me to court to get child support reduced because I informed one of his clients about the embezzlement, and he was fired and required to pay back what he stole. (The amount I have evidence of is likely a drop in the bucket!)
Many people still don't believe me, though as time goes on, more people do.
He was fired as the accountant at our tennis club (well, my children and I are no longer members…) but HE still plays tennis there! Incredible.
Of course there is so much more than this, but you get the idea. My children and I have been impoverished by him. My children are emotionally devastated by him–the father they thought they knew was a sham.
And he is taking me to court to tell a JUDGE that he should not have to pay as much child support, because I told a client that he embezzled from them.
To coin a phrase, "This is my life."