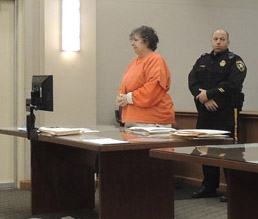 It is the stuff of horror movies. Loretta Doyle Burroughs, a 63-year-old grandmother, is accused of killing her husband and packing his remains into two plastic containers, which she brought with her when she moved at least twice over seven years.
Donna Andersen got an exclusive interview with the victim's brother, Ray Wantorcik, which was published by Mail Online.
EXCLUSIVE: 'She stabbed him to death and kept his chopped up remains in plastic containers for 7 years, enjoying her life.' Brother of victim whose wife is charged with murder reveals she dragged the remains along each time she moved, on Dailymail.co.uk.