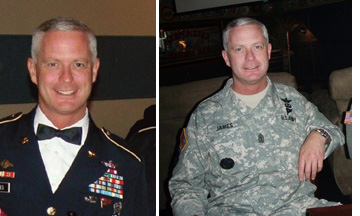 If you think real people don't get caught in dating scams, think again. Lovefraud heard from a woman who thought she met the soldier pictured above online. Actually, she met a group of scammers from Ghana. Here's what she wrote:
According to a USAA Fraud Investigator 15 women scattered across the US (I was one of them) were recently scammed by a group from Ghana. I am not  trying to get my money back, etc. In fact, I am being forced to file for bankruptcy.
What I am  trying to do is help the Active Duty Army Master Sergeant who is in ALL  the pictures these scammers still use! I saw a recent one posted under two i had added to one scam website. In fact, it could have been his recent retirement party. I just feel horrible that they continue  to steal this same soldier's pictures and want to know how I can get on some sites so these scammers can not CONTINUE.
Do you know this man? If so, please contact Lovefraud. And if someone sends you these pictures, and asks for money, know that it's a scam!