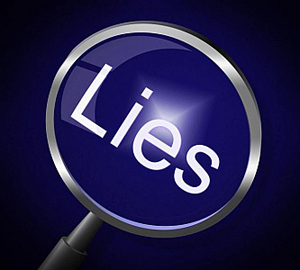 When we finally figure out that just about everything a sociopath told us is a lie, we are shocked. How can anyone lie so fluently? And why did we fall for it?
Here are 10 reasons why the lies sociopaths tell seem so believable:
Sociopaths tell you how honest they are
Early on, sociopaths may tell you how much they value honesty, that truthfulness is the foundation of all relationships. Their objective is to convince you of their trustworthiness, so that when you encounter their lies, you don't see them.
Sociopaths lie while they look directly into your eyes
Some experts say that if people look up and to their right while speaking, it's a sign that they are lying. Other experts dispute this. Regardless, we all tend to believe that if someone can look us in the eye while talking, then they are telling the truth. Sociopaths know this, so they look us in the eye as they lie.
Sociopaths mix truth with lies
This is a key sociopathic strategy mixing truth with lies. You know for a fact that some of what the sociopath says is true (and the sociopath knows that you know), so you infer that the rest is true. Unfortunately, you're wrong.
Everything is a lie
One way that we spot lies is by noticing change. At first, the story was this, now it's that. With a sociopath, however, there is no change to notice, because the lying starts from the very beginning and just keeps going.
Sociopaths lie with no physical reaction
Lying makes most of us feel anxious, which causes physical symptoms. These symptoms are what polygraph machines measure changes in heart rates/blood pressure, respiration and skin conductivity. Because sociopaths are comfortable lying, they feel no anxiety, so there are no physical changes to observe.
Sociopaths cover their lies with more lies
When we confront sociopaths about their lies, they tell more lies to cover up the original lies. Most of us would never be able to keep all the lies straight, but sociopaths are frequently gifted in this they can remember exactly what they told to whom, and they keep the story going.
"I would never lie!"
When questioned about something they said, sociopaths often proclaim, with righteous indignation, that they would never lie. They are so emphatic about this, and so obviously crestfallen that you could possibly think that they lied, that you end up apologizing even though they are, in fact, lying.
Sociopaths lie with complete confidence
It's hard to imagine that someone who is so charismatic, charming and confident, is also a complete liar. They exhibit no doubt whatsoever. They seem to command you to believe them so you do.
The claims are so outrageous that they must be true
Sociopaths claim to be special forces soldiers, foreign royalty, Ph.D. scientists, born-again Christians, spiritual leaders and more. They may forge or buy certificates, medals and other documentation to prove their stories. You can't imagine anyone would have the nerve to make such claims without them being true so you believe them.
Practice makes perfect, and sociopaths practice a lot
The more sociopaths lie, the better they get at it and typically, sociopaths have been lying all their lives. So they are very, very good at it. Unfortunately, most humans are lousy lie detectors, so the rest of us simply haven't got a chance. Sociopaths lie, and we don't spot the lies until it's too late.