Michael Bonert goes to prison

The judge finally revoked Bonert's probation from his first plea deal. On August 30, 2010, Bonert went to prison to begin serving the original 11-year sentence.
By this time, Bonert had accumulated eight more charges of violating the no-contact order and faced an additional 10 years in prison. Kuper learned that Bonert had negotiated another plea deal with the county attorney two years in prison to run concurrent with the sentence he was already serving.
"In other words, there would be no punishment for this fifth stalking charge," Vicki said.
Vicki wrote a victim impact statement objecting to the plea bargain, and the judge did not accept the plea deal. Vicki also wrote a letter to the county attorney. She wanted someone else to prosecute Bonert.
The case was turned over to Laura Roan, assistant attorney general for the state of Iowa.
State prosecution of Bonert

Laura Roan is an expert on stalking. Not only does she prosecute the cases herself, she provides training on stalking to law enforcement personnel throughout Iowa and the United States.
Roan described Vicki's case as "classic." But usually, when the stalking has been as severe as what Vicki endured, the victim was already dead.
"He doesn't take no for an answer," Roan said of Bonert. "All the law enforcement intervention in the world does not decide when it's done. He decides when it's done."
Roan explained that many women who are stalked go back into the relationships to save themselves. "She's always negotiating. Once she's away, can she stay away safely?
"Vicki was determined to stay away," Roan continued. "The fact that she's survived is miraculous."
Roan proved in court that Bonert knew, or should have known, that by driving by Vicki's house, and maintaining physical or visual proximity, he was violating the no-contact order.
She proved that Bonert knew, or should have known, his conduct was causing fear.
She proved that Vicki was fearful, and her fear was reasonable.
Bonert was found guilty of stalking.
Sentencing hearing for Bonert

Bonert's sentencing hearing on the new charges was held on October 10, 2011. Although he faced a maximum of 10 more years in prison, Bonert wanted any sentence to run concurrent with the prison term he was already serving.
For the prosecution, Delaware County Attorney John Bernau argued that Bonert's new sentence should be consecutive, not concurrent. "He has shown absolutely no remorse," Bernau said. "He's taken no responsibility, no accountability for his actions. So the only way this family and the community are going to feel safe is if Mr. Bonert gets a consecutive sentence."
The judge had previously received a progress report about Michael Bonert from Dean Gleason, correctional counselor at the Fort Dodge Correctional Facility (FDCF) in Fort Dodge, Iowa. It stated:
Bonert arrived at FDCF on 1/31/2011 and has been assigned to my caseload since that date. His behavior at our facility has been exemplary. He has received no reports and has steadily advanced up our level system. FDCF rewards offenders who display positive behavior as they receive more privileges while advancing through our levels. Bonert has achieved Privilege Level Four and will advance to our highest level (PL6) if he continues to exhibit the proper behavior/attitude. I have to commend Bonert for his accomplishments and I welcome his pleasant demeanor when meeting with him. My only regret is that I don't have more offenders like him on my caseload.
In his testimony during the hearing, Gleason admitted that the total time he spent counseling Bonert added up to less than an hour.
According to Vicki Kuper, Bonert's behavior was all about manipulation. At the hearing, she testified:
Michael Bonert knew exactly how to manipulate me when he wanted to date me. When I quit dating him, he knew exactly how to manipulate the Delaware County Sheriff's deputies in order to discredit me. He knows exactly who to manipulate at the prison to get a good recommendation, get moved to a minimum security facility and hopefully get released. His counselor didn't date Michael Bonert, so he wouldn't have the same experiences I've had with him. Mike knows exactly how to manipulate his family to continue paying his attorney's fees, which allows him to continue with his obsession. He knows exactly how to manipulate the courts to remain part of my life.
Bonert had been transferred to the minimum security North Central Correctional Facility in August 2011. His counselor there, Mary Elizabeth Pepples, also testified at the hearing.
"I believe he recognizes his charge and what he's done, and he is so willing to do better, and I think that he does understand that and he is working towards that," Pepples said. "I think he has done really well."
On cross-examination, however, Pepples admitted that she had never dealt with Bonert outside of her office. She also did not know that while he was in prison, Bonert continued to victimize Vicki through his civil lawsuits.
Bonert himself then spoke at his sentencing hearing. Vicki described his statement as a rant full of lies.
Bonert claimed that he and Vicki lived together while they were dating. After the no-contact order was in place, she secretly texted and called him, and he continued to help Vicki with her new home. After they worked together, they had sex. Bonert denied that Vicki was afraid of him, and claimed she had committed perjury by saying that she was.
"I was horrified," Vicki said. "My family was there, two of my kids were there, my mom, father-in-law, husband, other relatives of his. I really regret having my kids there. I asked them if they wanted to go for closure it was a huge mistake. Bonert's statement was 99% fabrication."
The judge, Michael J. Shubatt, also did not think highly of Bonert's statement.
"I did not, Mr. Bonert, in your statement, lengthy statement to the court, hear a lot of remorse or enlightenment into the circumstances and the ongoing situation that brings us here today," he said. "I know that you closed your statement by saying that you're sorry, but it seemed to me that 99% of your statement had to do with Ms. Kuper and what's wrong with her. You say you're done with her, but your statement seemed to indicate otherwise to me."
Judge Shubatt sentenced Bonert to 10 years, to run consecutive to his current sentence.
Although Bonert could spend a total of 21 years in jail, there is no minimum sentence, so he is up for parole every year.
Bonert keeps losing his cases

Bonert appealed his conviction for the most recent stalking charges. He lost.
Bonert lost his small claims court case against Vicki, and was charged with perjury.
Bonert's mechanic's lien of $48,912 against Vicki was dismissed, and he was ordered to pay her court costs and attorney fees. He was also charged with perjury and fraud.
Bonert filed another appeal of his stalking conviction on February 6, 2013, claiming he had ineffective legal representation. The case has not yet been resolved.
Kuper's life in danger
The Mike Bonert ordeal has taken a toll on Vicki Kuper. Defending herself against Bonert's frivolous civil lawsuits cost her $20,000. Because of the constant stress of the stalking, she now has high blood pressure, and will need medication for the rest of her life although she doesn't know how long that will be.
"I feel that my days are numbered," she said. "Some people have not taken this situation serious enough, like the board of parole planning on releasing him completely instead of gradually, and I think he is going to hurt me."
Both Assistant Attorney General Laura Roan and Police Chief Dave Weatherwax agree that Vicki is in danger from Mike Bonert.
"When he's released, he's an ongoing threat to her, no question," Roan said.
"I worry about her safety, as well as my own, quite frankly," Weatherwax said.
"I've known Bonert's family for 40 years," the police chief continued. "I've known his mother, father and grandfather "¦ I tried to talk to him first, tried to tell him the seriousness of it, because I knew him, but it fell on deaf ears.
"One thing I will say about the stalking I'm about to retire I've never seen a case in which I've seen the fear in the family that I've seen in this case. To this day, that family still lives in fear of what can happen, and I don't say that lightly. It would not surprise me if harm came to them."
Attention to the issue of stalking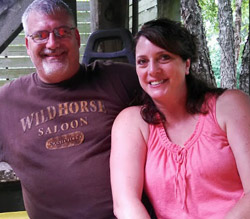 "The way I see it, my days are numbered anyway," Vicki said. "I accepted a long time ago some day he will kill me. So while I'm alive, I'll bring attention to this issue."
Vicki told her story in an episode of the TV series Stalked on the Investigation Discovery network. The show was called Above the Law.
She created a website called Stalking Help Now. And in January, which is Stalking Awareness Month, she wrote a letter to the editor in The Gazette of Cedar Rapids, Iowa.
"There are so many women out there who are being victimized, and they're not strong enough to speak up," Vicki said. "Someone has to speak out."
Another parole interview for Bonert
Mike Bonert had a parole hearing on November 20, 2013. Parole was denied, and Vicki thought she would be safe for a year. But then she was notified in February that the Iowa Parole Board intended to interview Bonert again this Wednesday March 19, 2014.
She felt sick about it.
"We were warned at the last interview that he will be getting out soon," Vicki said. "I just didn't expect it to be this soon."
Still, Vicki is determined to live her life as normally as possible. For years, her friends and neighbors didn't know the depth of what was going on in her life because she refused to talk about it.
"Mike stalked me and used the courts to control me starting in June of 2008," she said. "During that time I was able to meet and marry my new husband, a wonderful man. He served in the Air Force and receives ongoing self-defense training at his job. I believe he was sent to me at the right time and for a reason. He has always been supportive and is very protective."
Despite the profound betrayal of Mike Bonert, Vicki Kuper lives as vibrantly as she can. When her daughter pushed her to get a tattoo, Vicki agreed when she found something she wanted to say, which is now tattooed on her shoulder:
"Fearless is not the absence of fear, it is living in spite of the things that scare you to death."