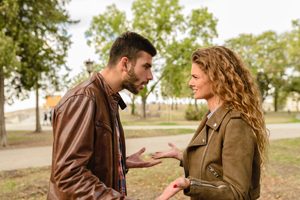 Almost all of us have an instinctive warning that something is terribly wrong early in an involvement with a sociopath (antisocial, narcissist, borderline, histrionic, psychopath). Almost all of us ignore the warning.
Last week I wrote about the physical symptoms that we often feel in 8 ways your body warns you about sociopaths. I included fear, chills, difficulty breathing, crying, pounding heart, upset stomach, nightmares and a nagging feeling. The post was widely shared, and several Lovefraud readers added more physical warning signs: immobilizing exhaustion, poor appetite, nervous tension, tiredness, cloudy thinking, vague upset, tightness in the chest.
When we're involved with a predator, our bodies desperately try to get out attention to warn us of the danger. Unfortunately, our minds override our instincts, even when the disordered individual is engaging in damaging or hurtful behavior.
Our partner does something mean or selfish. Or our partner acts coldly towards us. Or we catch the individual in a lie, or suspect that he/she is cheating. But instead of recognizing the behavior as a potential deal-breaker, we explain it away.
Suppressing our instincts
Here are some of the stories and excuses that we tell ourselves to let our callous partners off the hook:
1. I must have misunderstood.
2. We all have our issues.
3. He/she really does love me.
4. I'm sure he/she didn't mean it.
5. He/she has been through so much (not knowing the stories are lies).
6. It must be true — no one would lie about something like that.
7. Everyone deserves a second chance.
8. I don't have any proof that he/she really did it (when suspecting bad behavior).
9. I'm going to give the unconditional love he/she has never had.
10. I've been hurt before and I'm just afraid that I'll be hurt again.
11. I'll prove that I'm different (after stories about the individual's exes).
12. He/she would never intentionally hurt me.
13. We just got our wires crossed.
14. I want to make my own decision (after warnings from other people).
15. I don't want to be judgmental.
16. He/she is stressed out.
17. I'm being paranoid.
18. If I bring up my concerns I'll upset him/her.
19. When I asked why it happened he/she had a plausible explanation.
20. I should always give the benefit of the doubt.
21. There's good in everyone.
22. He/she is just having a bad day.
23. I feel scared, but there's no reason for it, so I must be overreacting.
24. He/she is being so sweet to me — I feel bad for doubting him/her.
25. The last time I brought up an issue he/she was so hurt that I ended up apologizing.
26. I will not abandon him/her like everyone else did.
27. He/she is doing such important work (after stories of the individual working for the FBI, CIA, etc.).
28. I just need to soothe the wounded child inside him/her.
29. I cannot base my judgment on a mere gut feeling.
Act on your instincts
Actually, yes, you can base your judgment on your gut feelings. Your personal relationship is not a court of law, and you do not need proof beyond a reasonable doubt when deciding whether or not to keep going with a romantic partner. If you get any intuitive hits at all, pay close attention.
In fact, that's the best way to protect yourself. You should not only listen to your instincts, but you should act on them. When your body is telling you that something is dreadfully wrong, don't let the wishful thinking of your mind overrule it.
When you were involved with a sociopath, did you talk yourself out of listening to your instincts? To help others, please share your experience below.