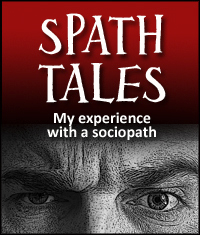 Editor's note: Lovefraud received the following story from a 67-year-old woman whom we'll call "Maura."
Lied, cheated, used me and others. Serial adultery, pornography, probable bisexual behaviors, never used condoms. I didn't know about the adultery until much later.
He suffered a head injury, and I mistakenly attributed his bad behaviors to that. Violent and aggressive.
Marital fraud; some possessions, like a boat and trailer, "disappeared." Claimed money and objects were stolen, but never reported thefts to the police.
Nagged and pestered me constantly to buy large items, mostly vehicles, that we couldn't afford.
Developed "hobbies" that kept him away from home on a regular basis.
Depended on me and would manipulate and pressure me to do things for him that he could do for himself.
Financially irresponsible. Received disability benefits but wanted to work on the sly and not pay taxes. Said (to me) that he was able to work, but refused to get a regular job.
Acted crazy and irritable to nearly everyone, so I didn't think he really was able to work.
Chronic problem gambling developed. Would tell me he was taking his mother to the casino and giving her money to gamble; later I found out he did take her there, but he was sponging off her. He had income penalties and interest for unreported gambling winnings.
Overdrawing the bank account repeatedly. Often told me he was going to his mother's house to help her; turned out this was not true.
When encouraged to work on constructive activity, would almost finish it, but quit, or finish it and then ruin it. Would not do any chores except car and lawn care, even though I worked long hours.
I was welcome to join him in activities he liked, but he would not join me in my preferred leisure activities. He would suggest a vacation, but I had to do all the planning and make arrangements.
His behaviors embarrassed me in front of my friends and colleagues, so I gradually stopped seeing them socially. He quarreled and complained about his family, so we stopped socializing with them. He totally alienated his children, and they rejected me along with him.
He refused psychological and medical care for his brain injury, stopped seizure medication without telling me or his doctor, refused marriage counseling. He was supposed to go to gambling counseling; I think he lied. Anyway, he did not stop gambling.
In 2012, his behavior became more bizarre and violent again. He threatened me in a very scary way. I got an order of protection and filed for divorce. He came to the house once and absolutely terrified me, but the order had not been served yet.
The divorce was final in 2013. In 2014, I learned that he had led double life, with a mistress, for nearly 20 years.
I have spoken with her several times. He told her he was married but did not live with his wife (me), who had total control of his substantial money and would "destroy" him if their affair were discovered.
She willingly entered into an adulterous relationship with him, deceiving her family and friends about the fact that he was married. She pressured him and "begged" him to let her "help" him ask me for a divorce. He refused.
She paid for their travel expenses and gave him money for gambling. I don't know what lie he told her when I kicked him out, but she let him move in with her and live there for free. They were engaged to be married.
Then, her grown son found out that he had been living with his wife (me) up until July 2012. The son told his mother, and she threw my ex out. Then she let him come back after about week.
Then I went to meet her and talk to her. We shared information. She threw him out again. Sadly, she has confided that she feels too old and unattractive to find another man. That is exactly how I felt when I was married to him.
For a while, he was trying to "reconcile" with both of us, and she ended up railing at me (via e-mail) and telling me to "get out of our life"! I thought that was pretty nervy, as she was the interloper, and I no longer communicate with her.
They do not live together, but her only social outlet appears to be regular trips to the casino with him. I both despise her and pity her.
My life has never been better. I am active in my community, have many new friends, have had therapy, and have begun dating.
I receive many compliments, and, after 30 years without a kind word, I cherish each one. I have been told I am gorgeous, a real sweetheart, radiant, cute enough to adopt, have a beautiful smile, younger looking, a knockout, etc.
My talents and abilities are appreciated. I am having the time of my life.