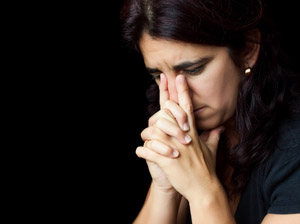 Editor's note: Lovefraud received the following letter from a reader who posts as "amille2."
When my boyfriend……….or should I say the man I thought was my boyfriend………..walked out the door a couple of days ago, I told him I felt like I had been sucker punched. He replied, "No, you haven't" and shut the door.
Just two days before that, I read his wife/girlfriend?'s grandmother's obituary whereby he was listed as the husband/significant other.
The physical jolt that went through my body was immense ……….. followed by the sound of every lie I had been told for the past 5 years clicking open in front of me to see ……….. really see this time. Then they all came crashing down at my feet ………. taking my heart and part of my soul with them.
The absolute depth of the deception is too much to comprehend right now. Surreal really. We aren't talking "I'm staying in tonight and you find out later he went out with his friends" kind of lies. I'm talking about the foundation …….. from the first encounter …… and every single day thereafter.
He suffered a head injury in the military. It meant that every day he woke up with a headache ……… that gradually became worse as the day went on. It affected his short-term memory ………….. but not long term. He had PTSD. He was in counseling because of his severe anxiety about having people in his house. He was a recovering meth addict from the meds given for his head pain ……. And while I knew acquaintances that confirmed the head injury ……. and I did see some anti anxiety meds prescribed by the VA. I will not even try and guess the real story.
All of this meant, of course that I could only see him during the day. As I worked from home, I would gleefully take a long lunch and make up the work later in the evenings or weekends. Besides, I could not see him during those times because he was either home resting from the migraine or busy with his daughter.
I was at his house one time …….. anything feminine was attributed to his daughter. Met his parents and brothers once in passing …… not one of his friends …. though he talked to them often about me, he said. He asked me not to mail anything to his house. It seems his last girlfriend tried to come between him and his son. To this day, his son is so traumatized by it, he doesn't let his son know when he is seeing someone. After his son moved out, I still couldn't mail anything because his anxiety of having people in the house was spilling over to even having mail delivered. We did take a couple of weekend trips …. but they were short and he was always in a hurry to return. Holidays were celebrated before or after the actual day. I didn't really mind as I have two children, parents, cousins, etc. that I all wanted to nest with. I cherish this family time and I liked not having to worry about whether or not he was entertained or bored by family stories. It worked out rather well, didn't it?
As I continue to pick through the rubble of lies in front of me, I'm dismayed as to how careless and stupid I was with my soul. How easily I dismissed all the odd stories; the fact that every ex girlfriend tried to control him and I should avoid them at all costs; the lies about things that didn't need to be lies; the grandiose explanation when he ended up going to a friend's wedding without me; the victimization he faced throughout his childhood and marriage; how we never went anyplace significant in the local area together; how I couldn't even walk up to his front door for a quick kiss because he was too anxious to handle that; and his fascination with porn …. more than I probably can imagine.
Of course, I didn't have the benefit of receiving all of this information at one time. It all accumulated slowly …….. like the proverbial frog in boiling water. Each new inconsistency was built upon the last and could be easily explained ……….. or at least I thought it could.
I knew all along that something wasn't right. This was not even close to a normal relationship.
I stayed because he was handsome and charming. He showered me with gifts and proclamations of love. He sent flowers and wrote the most beautiful letters, cards and emails. He text me several times a day telling me how much he missed me. He endeared himself to my children. He fixed things at my parent's house. He never once said anything unkind or asked for money. I was always beautiful, amazing, smart, caring and giving. We had a great sex life. Lots of sex.
I will say that the last 6 months my soul has been trying to wake me up. I was putting distance between us. Told him I had many conference calls or activities with the kids. I was starting to see glimpses through the mask. One of our last conversations he told me that he saw me as his future. My first thought was that I didn't believe him; my second was that I didn't feel the same.
Yet here I sit. Knowing that I traded part of my heart and part of my soul to feel love and security. Knowing that someday it was going to haunt me …… but never truly knowing why and to the extent. Devasted to realize I traded myself for nothing in return.
Discovering his double life is painful. Realizing I meant nothing to him. The cards, the gestures, the words ……… all empty. I had the strength to politely tell him that I was depleted. That he had to go. I didn't cry, beg, get angry or ask him why. It would have been a waste of what little I have left of me now. I'm constantly anxious and afraid he will return to try and convince me that I'm wrong about him. He claims his ex girlfriend planted the obit because she is still stalking him after all this time. That he'd be happy to have me go to one of his therapy sessions with him. That he knows that he needs to work on himself …….. that his issues cause me to doubt him …… and if he changed, would I take him back?
I am so glad I found your website and book. It is comforting to know I am not alone. I'm trying not to replay every conversation in my head over and over again. I'm trying to understand that this man is no longer in my life. I'm trying not to beat myself up over the irony that his last words to me were actually the truth.