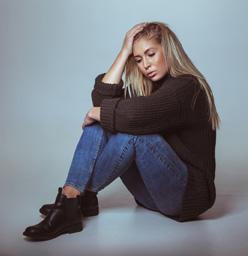 UPDATED FOR 2022: Suppose you successfully get rid of a sociopath and he or she leaves you alone. Then, after months of No Contact, he or she reaches out to you. The sociopath wants to begin again. What do you do?
Here's an email exchange I once had with a Lovefraud reader whom we'll call "Alana."
Alana wrote:
Donna, I came across ur website accidentally after I left a guy and was searching for some answers on whether he was abusive, I was left totally confused.

When I met him 4 years ago, he seemed so crazy about me and he would send me hundreds of texts per day and 10 phone calls, he wanted to see me every day. At first I felt suffocated I wanted to run in the other direction, but he kept telling me I'm the best thing ever and his words are so poetic, I thought wow, it's so different cause this guy really is obsessed with me, he's so different from the rest of them who want to play the field and take their time or never call back. My best friend said oh my god he's obsessed with u, and he talks like this to u?! Ur never going to be able to leave.

But then he has an ugly side to him. He loses his temper on me, pressures me for sex, he was rigid about everything. He was also a control freak, over the years he broke up with me for going to the gym, having lunch with female friends, putting other things above him. I still thought it was all because he just cared about me so much, but then I found out he does whatever he likes and doesn't tell me about. He punishes me for things he's done himself. I got quite resentful.

I tried to leave him so many times. But I always end up going back to him cause he would chase me. He said I abandoned him every time I left; he's threatened to kill himself several times. He also threatened to show my pictures to everyone else if I abandon him. After all these things failed, he started going to church, he became Mr. Wonderful overnight. I seriously don't know what happened, but he seems to have changed, and he says he loves me and wants to make it up to me.

He still makes me cry, and he's so indifferent because when I cry, he doesn't stop yelling and he puts me on speaker and goes silent when I'm sobbing. Sometimes I feel he has no emotions unless they are his. He often smiles when I catch him in a lie too. It creeps me out totally.

We finally took a break. He actually honored his words and gave me a month to think. I didn't want to go back after a month so I never contacted him again. Then he started writing me again, he told me how thankful he is to ever known me and I will always be number one in his heart, but for now space is best, and that he is really doing ok thanks to all I've taught him, and how I've made him such a good person.

Donna, what am I dealing with here? I'm so confused. I don't want to judge him, but I've been so hurt idk who I'm dealing with anymore. Is it the guy who truly loves me or is it someone totally sick and manipulative?
I replied:
The guy is a sociopath. He is incapable of love, so I'm afraid he never loved you. It is all about control. He wants to control you.

Do not go back to him. In fact, do not have any contact with him at all. In order for you to recover, you need to stay away from him. they are experts at  reeling you back in if you give him the slightest opening.
Six months later, I received another email from Alana:
Hi Donna, as u can see I wrote u six months ago. Since then, I've cut off all contact. I blocked phone numbers through my phone company, I blocked every email address. I changed routines and routes, I quit one of my jobs so I'd never run into him. I don't use social media, and I made myself to quit googling his. I've never looked.

I've kept no contact firm and steady for six months. And then, he wrote me from a newly created email address. He begged for my return, he said if I don't respond then he'd be damaged forever by what I'm doing to him.

Of course I felt an enormous amount of guilt. I wrote back out of guilt and shame. But I said I don't hate u, I just want to heal and I asked him to just leave it like this. He didn't write me back. I have that sick feeling again. I hate myself for writing back out of sympathy.

I am still keeping no contact and moving past this set back. It's the right choice, right?
I replied:
Yes. Please recognize that his "damaged forever" plea is just manipulation. His intention is to reel you in again. If you return, you will experience all of the atrocious behavior all over again. Commit to yourself again to No Contact. Do not respond, no matter what he says.
Do they return?
People often ask me, do sociopaths return? As this story illustrates, sometimes, unfortunately, they do. They wait for awhile, and then the sociopaths want to begin again.
In Alana's case, the guy waited six months. I've heard of other cases in which the sociopath has been gone for years, and has turned up again.
Read more: Seduced by a sociopath — It's not love, it's love fraud
Why? Why, when they seem to have finally gotten the message and disappeared, do they all of a sudden pop up?
The answer is simple. They were able to manipulate you before, so they'll try to manipulate you again.
Sometimes the sociopaths are desperate perhaps their newest target has caught on to the scam, and has thrown them out. They need to find new supply, and fast.
Other times, the sociopaths are just trolling. They're putting the hooks out to see if you will bite.
Sixth sense
Quite a few people have told me that just when they finally felt they were getting over the experience with a sociopath, just when they were starting to finally relax that's when the sociopath initiated contact.
Sociopaths often seem to have a sixth sense about when you might be receptive to hearing from them.
In fact, some people actually felt they had recovered enough, and were strong enough, to be "friends" with the sociopath.
It didn't work. Although the sociopaths stayed on good behavior for a while, sooner or later the lying, manipulation and abuse began again. The targets felt all the old pain and betrayal. Except this time it was worse, because the targets were also angry at themselves for opening the door and letting the sociopaths in.
And, their recovery was back at square one.
No Contact is forever
If you've been involved with a sociopath, once you get the person out of your life, make sure he or she stays out, even if the sociopath wants to begin again.
This may feel uncomfortable. You know how you would feel if someone turned their back on you, so you don't want to do it to another person, even a sociopath.
Remember, sociopaths do not feel the way that you feel.
Alana wrote back out of "guilt and shame." But I assure you, the sociopath did not experience any guilt or shame, no matter how badly he treated her. He knew that Alana is a nice woman, and tried to use that to his advantage with his claim that he would be "damaged forever."
Learn more: Tools for navigating narcissists and other manipulative people
Yeah, right. Had Alana let him proceed, he would soon be back to his old controlling ways. Even though she temporarily relapsed, I'm so glad Alana quickly recovered and went back to No Contact.
To protect yourself forever, remember this: No Contact is forever.
Lovefraud originally posted this article on May 18, 2015.