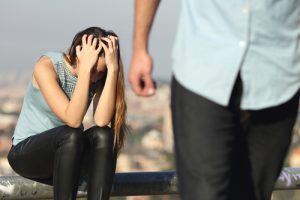 Here's a question I hear frequently from Lovefraud readers: Do sociopaths return?
The answer: Some of them don't, but some of them do.
Many people who have been romantically involved with sociopaths experienced the sudden "devalue and discard." One day the sociopath loves you. The next day the sociopath tosses you aside like a used tissue and walks away, without ever looking back.
As the person left behind, you may be in shock. You may have had no idea that your partner was unhappy. You may ask yourself, did I do something wrong? Why didn't he or she say something? Can't we work this out?
You are also astounded at the callousness of your partner's behavior. All those statements of "I love you" and "we're soul mates" — did they mean nothing? After all the time you spent together, and everything you've been through, how can this person just leave?
The answer may be that your former partner has drained all your resources, and there's nothing left to take. Or your former partner has simply found a juicier target. Or your partner simply decides that he or she is bored. For whatever reason, you are no longer of any use, and the sociopath is gone.
If this person doesn't return, consider yourself lucky.
The return
Sometimes the sociopath does return. They often have a sixth sense of when you may be receptive to hearing from them. They just seem to know when your anger has subsided, or when you're feeling lonely, or when you feel strong enough to be "just friends."
Then, because they've spent so much time studying you, they know exactly what approach to use to hook you again.
They may proclaim their love, confessing that they never knew how much they truly loved you until you were gone.
They may apologize profusely, seeming to take responsibility for their heartless actions, while conveniently blaming something else, such as work stress or alcohol.
They may promise to go to counseling, or church, or rehab. Or, they say they've already been to counseling, church or rehab, and they've changed.
Or, they seduce you sexually.
Why do they return? Perhaps the "juicier target" has thrown them out and they have no place to go. Whatever the reason, they were able to manipulate you before, so they assume they'll be able to manipulate you again.
Maintain No Contact
In numerous articles on Lovefraud, I've explained that to end an involvement with a sociopath, you must have No Contact with him or her.
If the sociopath returns after a period of time, your response should be the same: Maintain No Contact.
They may catch you off-guard by contacting you from a new phone number or e-mail address that you haven't blocked. They may show up unannounced at your home or place of employment.
Do not fall for their apologies, excuses or professions of love.
Never forget: Once they are adults, sociopaths do not change. Sooner or later, the old games will start again, except they'll be worse.
If a sociopath returns, do not let him or her back into your life.
Lovefraud originally posted this article on Dec. 9, 2013.