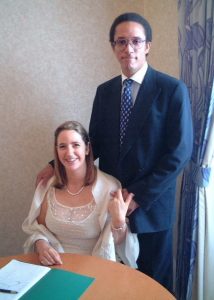 The BBC is running a new TV drama called Mrs Wilson — about a woman who discovers her "secret agent" husband has three other wives.
This is exactly the story of Mary Turner Thomson, of Edinburgh, Scotland, whose ex-husband, Will Jordan, claimed to be an American CIA agent. In reality, he was a computer developer with three wives. The Daily Mail recently wrote about the similarities in the stories:
Woman, 53, who thought she had the perfect marriage with her American 'secret agent' husband discovers he is serial bigamist with THREE other wives and 13 children.
Lovefraud has been writing about this case for years. In fact, Lovefraud was instrumental in helping Jordan get arrested in his most recent scam attempt in New Jersey. Read the story here:
Lovefraud con man William Allen Jordan – AKA Liam Allen – busted by his latest victim in New Jersey.